Forensics Team Clinches State Tourney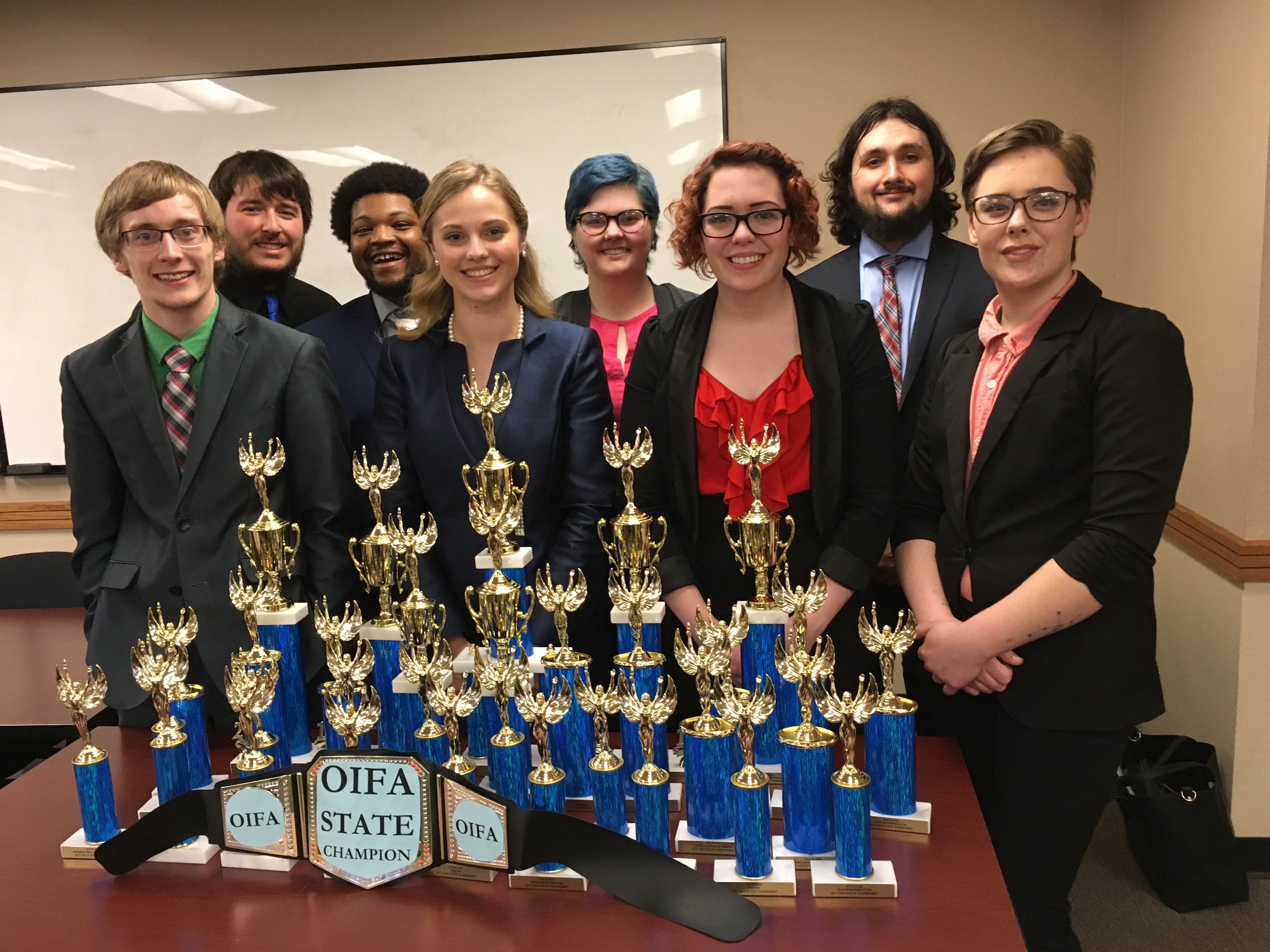 Berth of Awwards: The CU Speech and Debate Team pose behind their numerous awards at the OK Intercollegiate Forensics Association State Tournament on March 3-5 in Oklahoma City.
Jacob Jardel
Managing Editor
@JJardel_Writing
The Cameron Speech and Debate Team concluded their penultimate tournament of the season with a top finish at the Oklahoma Intercollegiate Forensics Association State Tournament from March 3-5 in Oklahoma City.
The squad competed against 12 other colleges and universities throughout the state. Claiming multiple titles and honors individually en route to first-place titles in Individual Events, Debate and Combined sweepstakes, the team finished ahead of competitors from the University of Oklahoma and Northeastern University.
Director of Forensics Sarah Collins said she was proud of the team for following up on their success from last year's state tournament.
"We set a goal at the beginning of this season to defend our state championship titles," Collins said in a press release. "The students have worked very hard toward that goal. They did an outstanding job this weekend, and it was great getting to see their hard work pay off."
In Parliamentary Debate, the teams of Alex Amos/Kris Mayfield and Cody Jackson/Teague Fox both defeated teams from the University of Oklahoma to reach the final round, resulting in a closeout that named both teams co-state champions. In addition, senior Sav Price earned second-place honors in this event.
Fox also earned the title of state champion in Lincoln Douglas Debate, while Jackson placed fourth in the event.
Furthering their success on the day, Price earned the state championship in Informative Speaking. They also placed fourth in Programmed Oral Interpretation (POI) and seventh in Impromptu Speaking en route to a fifth-place pentathlon win.
Price credited their success to the time and effort Collins puts into the team as a whole.
"She pushes and supports us to be the best we can be and helps to create an environment we can thrive in," Price said.
Mayfield also placed in POI, earning sixth. Amos finished as the state champion in Impromptu.
For Duo Interpretation, Mayfield and senior Savanna Sanders earned the state championship, while freshmen Rachael Rowe and Dallas Strong placed fourth. The four also finished in the Top Six for Poetry Interpretation, with Sanders winning the event and Mayfield, Strong and Rowe earning fourth-, fifth- and sixth-places (respectively).
Mayfield also won the state championship in After Dinner Speaking, while Sanders also earned state in Dramatic Interpretation and Persuasive Speaking. Strong placed second in Persuasive, earning him and Sanders a berth in the Interstate Oratory Association Tournament in April – the third consecutive year where two Aggies earned this honor.
For Strong, it was the culmination of hard work he put in during his first year doing competitive forensics. He said he was proud of the team's efforts as a whole and hopes to use that momentum to build on while going into the next season.
"I'm ready to put in the work I need to and have that show," Strong said.
Mayfield's efforts in his tournament earned him a fourth-place finish in pentathlon and the OIFA State Championship Belt for his performance in both individual events and debate. He said earning the belt was his goal after seeing the unique air of swagger surrounding the title, complete with theme music and associated raucous ovations.
He said that day provided him with a tangible goal, one he mentioned frequently, especially in banter between him and his friend – last year's title winner.
"Having that concrete goal and motivation to win is a major key to my success," Mayfield said. "I talked so much about it at the start of the year, that for the rest of the year my team would bring it up whenever I felt discouraged. It added another layer of accountability."
Mayfield's Duo Interpretation partner provided her own championship performance.
Sanders' success in multiple events earned her the state championship pentathlon award. This honor culminated an emotional weekend for the senior competing in her final state tournament.
She said she did her best to enjoy it and let everything else happen as it may.
"Once it did, I couldn't be happier with the results," Sanders said. "More than anything, I'm proud of my team. My achievements mean nothing without their support to get me there."
The Forensics team entered their final stretch of their season at the Pi Kappa Delta National Tournament from March 17-26 in Boise, Idaho. Details on the team's finish will be in the next issue of the Collegian.
Tags CU NewsJacob Jardel
You may also like...