Bombing Survivor Shares Story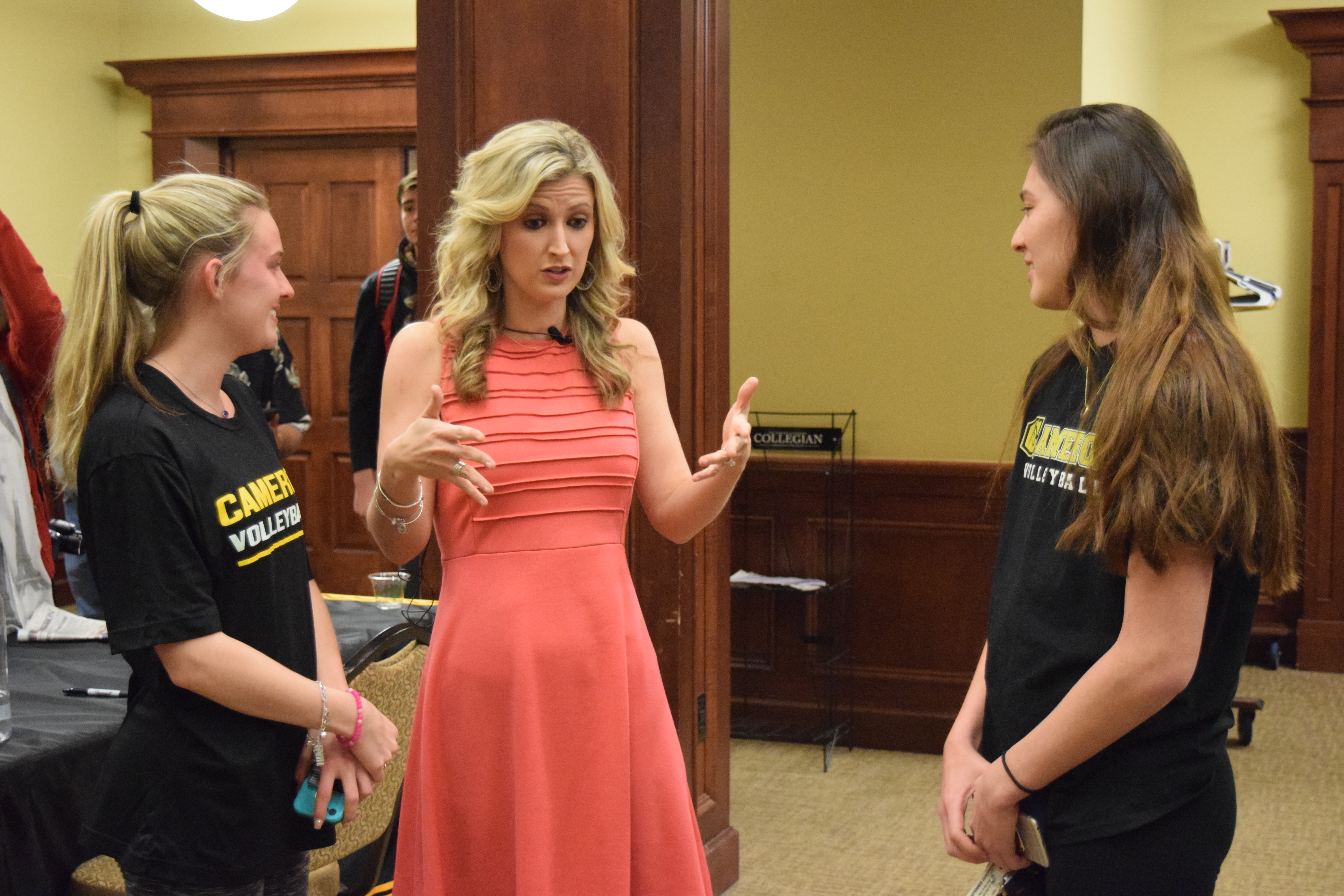 Survivor's Tale: Rebekah Gregory spoke to Cameron and he Lawton community about living meaningfully after surviving the Boston Marathon bombing. Her book, which hits stands April 4, focuses on telling her life story before the bombing from the prospective on life she developed as a survivor.
Jacob Jardel
Managing Editor
@JJardel_Writing
Boston Marathon bombing survivor Rebekah Gregory spoke about what she called "The Best and Worst Day of My Life" at 6 p.m. on March 8 in the MCC Ballroom.
Cameron University Lectures and Concerts helped sponsor the program, which was free of charge to the public. Gregory talked about her experiences after surviving the bombing and the lessons she learned through the associated strife and trauma.
Director of Student Development Dr. Jennifer Pruchnicki said Gregory's story of tragedy, triumph and perseverance serves as a source of inspiration from which the Cameron community could learn.
"It's important for those of us who are so far removed from national events like the Boston Marathon bombing to gain an understanding of how life can change in an instant," Pruchnicki said.
Gregory said she remembers everything from that day. She was with her son Noah at the finish line on Boylston Street when the bomb went off three feet away from them. She was pinned to the ground but focused on finding her son most of all.
Gregory said it was the scariest moment of her life.
"I thought for sure I was going to die on the street that day," she said. "I even said a prayer: 'God, if this is my time, take me, but let me know Noah's okay.' A few minutes later, in peripheral vision, I could see Noah – physically see him – and he was alright.
"I was thinking, 'Oh, my, I really am going to die today.'"
Her leg took the brunt of the impact away from Noah, who received cuts on his leg and head along with intestinal bleeding.
After 18 surgeries and 65 procedures, including an amputation of her left leg, Gregory was out of the hospital but far from the life she knew before the attack.
"My entire life changed," she said. "You can never go back to your old life, and sometimes that's really difficult. I remember everything I saw that day. … It still hurts to talk about because those are the visions that I have in every one of my nightmares."
However, for her, this time of great tragedy eventually became what she said was one of the best days of her life.
"Before that, I took everything I had in my life for granted," Gregory said. "I went about my day, and I just survived. On April 15, 2013, I could have died – I should have died. But what really happened was I started living. Now I appreciate everything in my life so much more."
She now uses the experiences she went through as a vehicle for inspiring others. She said her main goal is to instill hope to those around her.
"To me, because I'm still here, I feel like I need to lead a more meaningful life," she said. "With the obstacles I've been given and the decisions that I've been dealt, I want to try and inspire as many other people as I can."
Gregory compiled her stories of survival and adjustment into her book entitled "Taking My Life Back." This book culminates a goal she set for herself at age 10: to write a book before she turned 30.
However, the book dives into more than just the bombing.
"This book really exposes me as a person," she said, "and the struggles that I had way before the bombing ever happened in my life. By doing that, I hope that's even more reason for someone to gain strength from my story."
She also said she wants her readers and audiences to hear her story and walk away with the inspiration to take on another day.
"I think we get into such a routine in life," she said. "I want to remind people of what they already know – that life is beautiful. There's so much to live for. It's also short, so we need to enjoy it while we have it, because you don't know when you're going to lose it for good."
After the talk, audience members had the opportunity to meet Gregory. She said these moments help her continue the adjustment process.
"I leave so much more inspired and encouraged," she said."As much as other people need healing or my message of hope, I need their message, too. I consider myself so honored and humbled to be able to experience and meet so many people."
Gregory's book "Taking My Life Back" is set to hit shelves April 4.
You may also like...