ROTC & Ft. Sill, CLS Training that can Save a Life One Day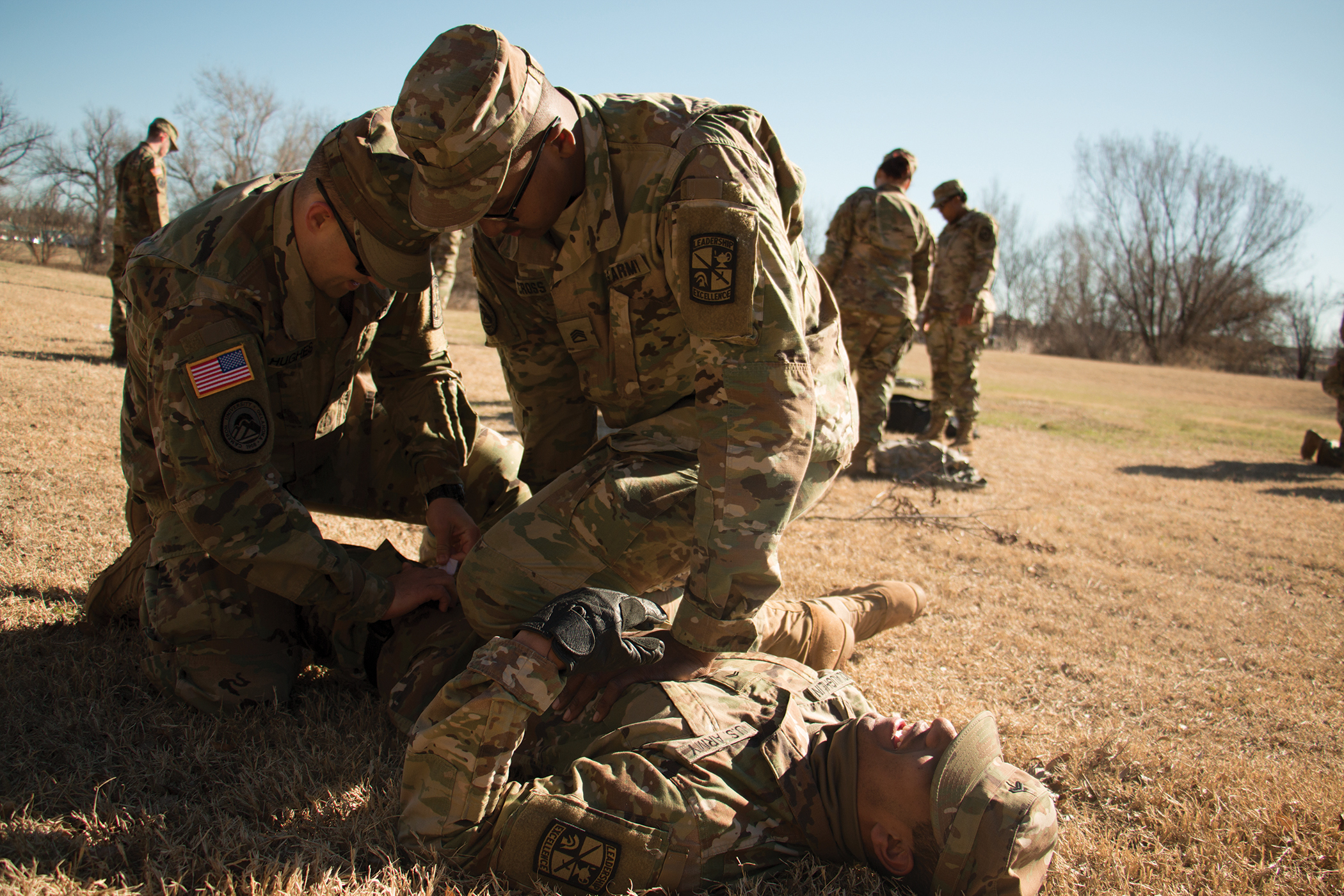 Christopher Reif
Student Life Editor
At 9:30 a.m. on Feb. 24, two Combat Medics from Fort Sill taught 45 Cameron ROTC cadets the basics of Combat Life Saving (CLS) techniques.
The two Combat Medics showed the proper procedures on how to apply a tourniquet and how to dress a wound if it was on an extremity. Senior interdisciplinary studies major Travis Murt noted the significance of basic CLS for the younger cadets.
"The magnitude of importance that classes like these are hard to describe," he said. "Every soldier in the Army should have a basic understanding of how to perform CLS techniques. You never know when you might have to perform these actions while in the Army."
Once the medics were done showing cadets the procedures in applying the tourniquet and pressure bandages, the cadets split off into groups to begin a practical exercise. Junior Business Administration major Justin Chappman elaborated on the benefits of the hands-on exercise.
"The medics put us in challenging situations that definitely tested our ability to apply the CLS basics to our peers," Chappman said. "We had a time limit to perform all of these actions. All the commotion and pressure that was going around us only made it harder. It was tough, but now I know how to do it much better now than I did before."
After a practice period where groups of five cadets refined their CLS techniques, the medics gave the cadets a more difficult challenge. Placing a few of the cadets approximately 50 to 75 meters apart from each other, the medics gave the selected few an injury that their fellow team members would have to treat.
Senior Physiology major Jayden Roy said he enjoyed seeing the young cadets take on the challenge.
"Watching the cadets run towards the casualty as a team was rewarding," he said. "Being an infantryman in the guard, I know the importance of being proficient in CLS and the very techniques that they have been learning all day today. I am loving what I have seen from the cadets all day; they have been putting all of their efforts out there."
You may also like...