University establishes Sylvia M. Burgess Service Award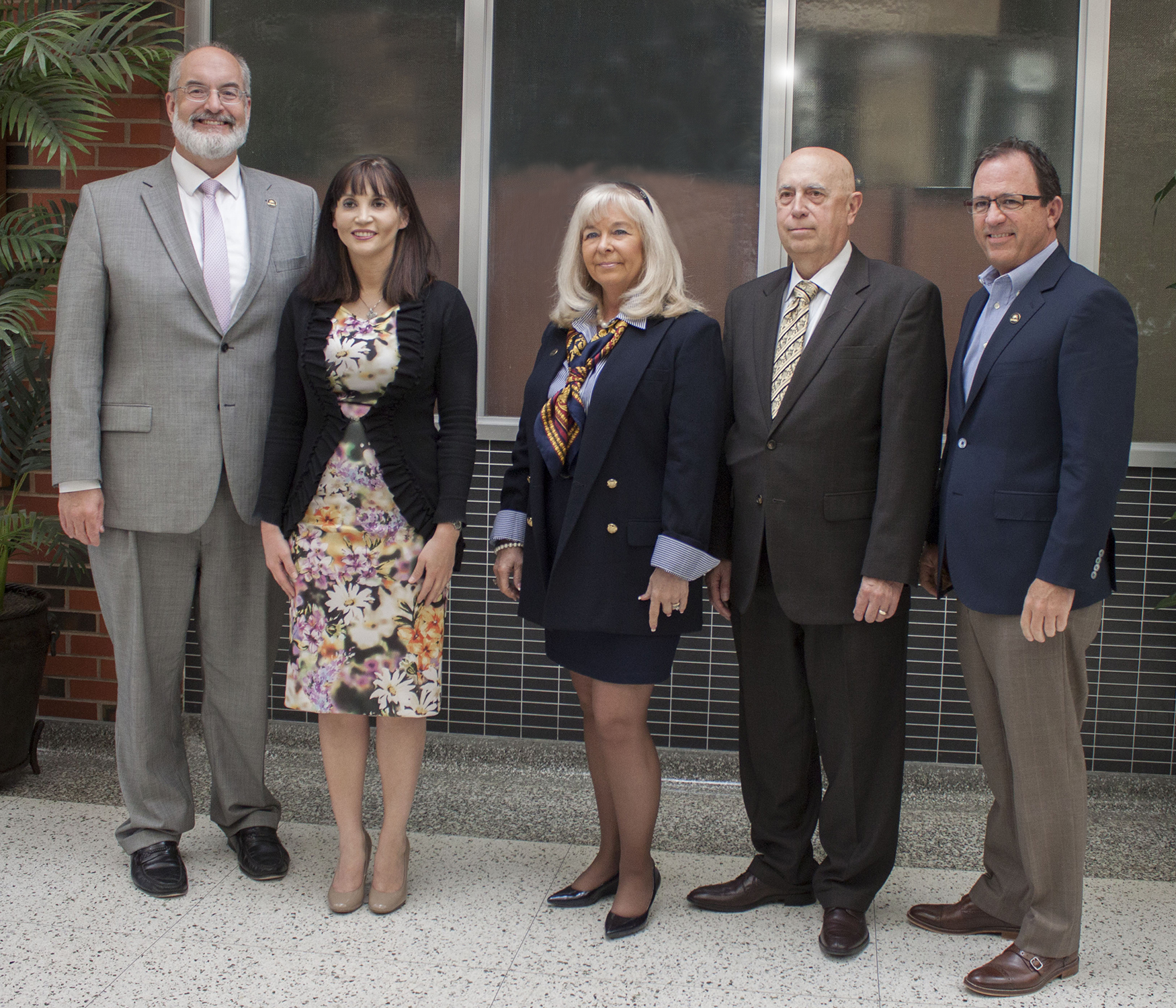 Funding the future: (From left) Cameron President Dr. John McArthur, Dr. Theresa Billiot, Dr. Sylvia Burgess, Dean Dr. John Camey and Cameron University Foundation Vice President Scott Hatch were on hand to commemorate the establishment of Burgess' eponymous scholarship.
Jacob Jardel
Assistant Managing Editor
@JJardel_Writing
Aggie Business majors can look forward to further scholarship offers in the future.
Thanks to a $15,000 endowment from the School of Business and the Cameron's chapter of Enactus, the university established the Sylvia M. Burgess Service Award.
Each spring, Cameron will present the award to a business student who has accumulated over 48 community volunteer hours during the academic year.
The award is named in honor of Dr. Sylvia M.  Burgess, the current Associate Vice President for Academic Affairs. She is also the former faculty advisor for Enactus, a student organization comprised of students, business leaders, and academic leaders who are committed to using the power of entrepreneurial action to transform lives and shape a better, more sustainable world.
Previously known as Students in Free Enterprise (SIFE), Enactus obtained the 2005 Donald W. Reynolds Governor's Cup Collegiate Business Plan Competition under Burgess' leadership.
She expressed gratitude toward the university, the school and the organization for naming the award after her.
"I am deeply honored that Cameron students have named this award in my honor," Burgess said in a press release. "It is my belief that serving one's community for the betterment of all is one of the most rewarding activities a person can undertake."
Dean of the School of Business Dr. John Camey said in a press release that Burgess was the right person to be the namesake for the award.
"Dr. Burgess' unwavering dedication to Cameron University students is equaled by her commitment to serve her community," Camey said.
"Through her community involvement in a variety of leadership roles, she has set an outstanding example for others to follow."
Candidates seeking consideration for the scholarship must submit a letter of candidacy describing their work in the community. Further, applicants need to provide a letter from community service organizations verifying time of service.
For information on how to establish an endowment through the Cameron University Foundation, contact the Office of University Advancement at 581-2999.
Tags Jacob Jardel
You may also like...