Lady Aggies eliminated in NCAA Quarterfinal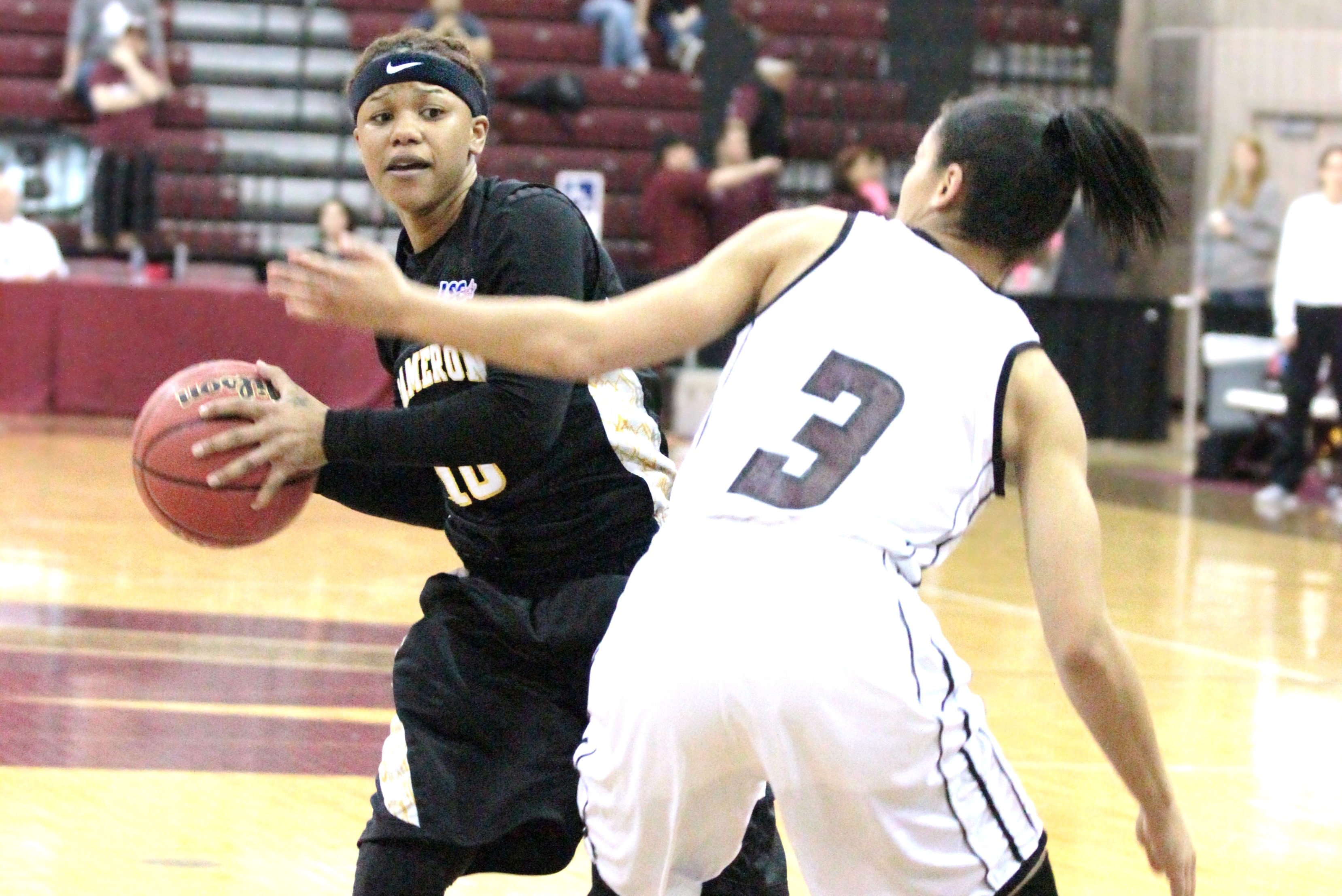 Krista Pylant
Sports Editor
@KristaPylant8
The Cameron women's basketball season came to an end on March 14 in Canyon, Texas after West Texas defeated the Lady Aggies 80-61 in the NCAA South Central Regional Quarterfinal.
The Black and Gold could not recover after a rough first half and ultimately fell to the number one regionally ranked Lady Buffs.
West Texas head coach Mark Kellogg said a solid defensive effort was the Lady Buffs' key to victory.
"That was our focus throughout the week was trying to limit them from the three and finding a way to contain [CU guard Jazzmine] Robinson," Kellogg said. "Trying those at the same time is not necessarily easy the way they play, and the way they stretch you with their shooters."
Cameron put points on the board first after senior Jade Herl made a three pointer within the first ten seconds of play. The Lady Aggies continued to lead until a six minute scoring drought allowed the Lady Buffs to take back the game, 14-8.
A layup from CU's DJ Vallier, and two good free throws from Sasha Carter put Cameron within two points of West Texas' lead, but another three minute scoring drought overtook the Lady Aggies.
West Texas pulled ahead by 20 points to lead 42-22 at the end of the first half. The Lady Buffs headed to the locker room with a 59.3 field goal percentage compared to CU's 28.6 %.
Cameron head coach Tom Webb said missed shots and turnover opportunities held the Lady Aggies back in the first half.
"All year long we have attacked," Webb said, "and we had a few spurts. At half time I talked to our kids, and shots just didn't go, and West Texas got some loose balls. You just can't afford those kinds of things against the fifth ranked team in the nation."
The second half saw more scoring action from the Lady Aggies. Cameron narrowed a 26 point West Texas lead to come within 15 points of the Lady Buffs three times throughout the second half, but CU never broke the deficit.
Despite scoring more goals than West Texas in the second half (CU's 39 to WT's 38), and earning a better field goal percentage (CU's 48.3 % to WT's 42.9 %), the Lady Aggies could not capitalize and fell for a final score of 80-61.
CU junior Brandi Leal led the Lady Aggies in scoring with 15 points compared to the last two games where she went 0 for 3 in three-point field goals against Midwestern State and 1 for 8 against Texas A&M- Commerce in the conference tournament.
Markita Zeigler was the other Aggie in double-figures with 12 points. West Texas held CU's leading scorer Jazzmine Robinson to just nine points in her lowest scoring effort since Jan. 14 at Texas A&M- Commerce.
Robinson ended her two year career at Cameron with 824 total points; 490 of those from the 2014-15 season.
Webb said he is proud of the senior's efforts in the Black and Gold uniform.
"This year they have laid the foundation," Webb said. "We went through a lot of adversity early in the season with some injuries and different things, and the girls fought through. They continued to believe, and they became a family, and we had some special things happen throughout conference."
You may also like...