The Versatility of YouTube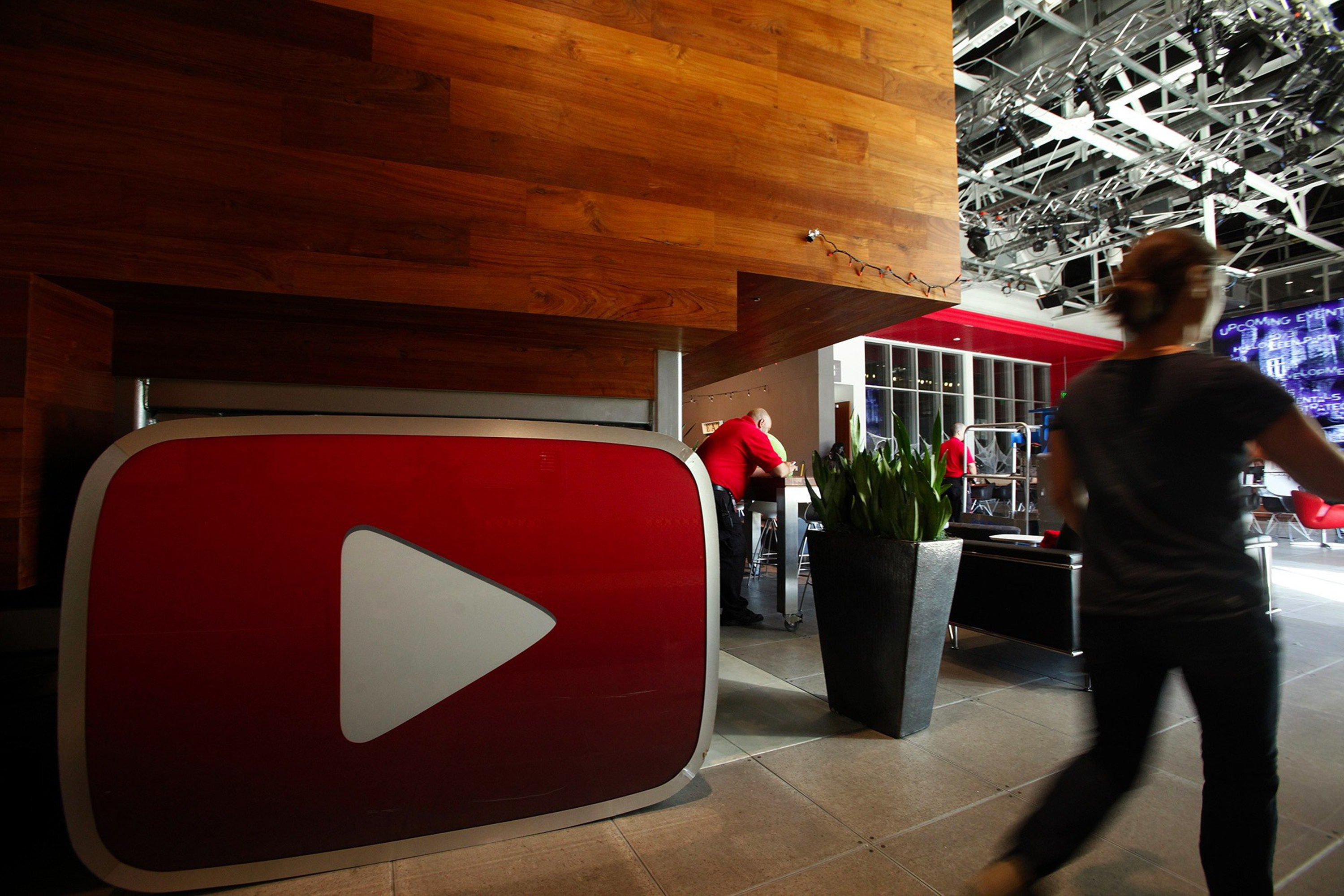 The lobby of the YouTube Space LA features a huge version of the iconic YouTube play button. (Genaro Molina/Los Angeles Times/TNS)
Jacob Jardel
Assistant Managing Editor
@JJardel_Writing
According to web data analytics company Alexa, Internet traffic goes through three main websites. After stalwarts Google and Facebook, the third web staple is YouTube.
The video sharing site launched to the public in Nov. 2005. Nearly a decade later, YouTube hosts 800 million unique visitors monthly. Some users come solely to watch videos, while others contribute to the 300 hours' worth of new video uploaded every minute.
Many know the site for the various cat videos they use to pass the time, while others tune in to view regularly-scheduled programming such as Rhett and Link's "Good Mythical Morning" and Philip DeFranco's self-titled shows. Still others look for music videos, song lyrics or movie clips of questionable legality.
Regardless of what people use the website for, YouTube gets the foot traffic it needs to stay afloat. In 2007, the site alone used as much bandwidth as the entire Internet in 2000.
However, there are still questions as to what kind of entertainment medium YouTube is.
The YouTube landscape is diverse with diversions, ranging from educational videos to makeup tutorials to stand-up comedy skits. With the vast number of different uses for channels, one way to look at YouTube is through the lens of the different personalities and content creators on the site.
Some creators have used their Internet fame to branch out into different projects outside of daily vlogs. Mamrie Hart, Grace Helbig and Hannah Hart – the "Holy Trinity" of YouTube – have taken their talents and their stardom to new heights.
While they all garnered fame on channels such as "You Deserve a Drink," "DailyGrace," "it'sGrace" and "My Drunk Kitchen," the three have used their followings to write books, write and star in movies, establish international tours and – in Helbig's case – sign on for a late-night talk show with E! Network.
While Helbig and the Harts utilized their channels for comedy mixed with life lessons, others have used their channels to spread their music and other talents to interested viewers.
One of these stars is classical crossover violinist Lindsey Stirling, who introduced her channel "Lindseystomp" in 2007. Since then, she has taken her mix of hip-hop, classical, electronica and dubstep to "America's Got Talent," where she reached the quarterfinals.
Since her appearance in 2010, she has released two studio albums, toured the world, made Forbes' "30 Under 30" list and has participated in a variety of philanthropies.
Moreover, two of the most prominent names in the YouTube community are John and Hank Green of "Vlogbrothers" fame. In 2007, the brothers ceased text-based communication and posted a video a weekday for the whole year instead.
Following in the style of online performance artist Ze Frank, the two took the project from a daily series to biweekly vlogs and videos on a variety of subject matters, both important and mundane.
But what makes Hank and John Green key figures on the Internet is what they have done within and outside of the YouTube community.
With the help of their fan base, dubbed the "nerdfighters," they set out on a mission to "increase awesome and decrease worldsuck." Since 2007, the Greens have expanded from their "Vlogbrothers" channel to start educational channels like "CrashCourse" and "Sexplanations." Furthermore, their Project for Awesome charity movement has approximately $3 million for charities such as Toys for Tots and the Uncultured Project.
These examples are a few of the numerous stars on the YouTube scene. They do more for the viewers and fellow content creators than post mundane cat videos. They reach out to fans, promote the YouTube community and try to make a positive imprint on the world.
All viewers need to do is press play.
Tags Jacob Jardel
You may also like...
Sorry - Comments are closed