CU Spirit Team to hold tryouts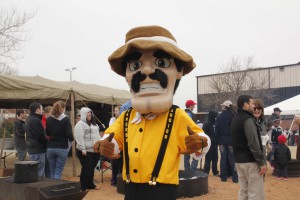 Casey Brown
Copy Editor
Cameron University's Spirit Team is holding tryouts for cheer, dance and mascot positions throughout the month of April.
Ole Kim tryouts are on April 4 and April 6; Cheer tryouts are April 11-13; Dance tryouts are April 25-27. For each round of tryouts, the first 1-2 days of the event consist of learning the material for auditions and information, whereas the last day will include the auditions. Students must attend each day to audition.
There are 2-4 positions open for Ole Kim and 20 positions open each for cheer and dance.
Head Spirit Team Coach Ryan Flood said he is looking for energy, especially for the mascot position.
"We are looking for someone who is energetic, exciting, able to interact with people and fun," Flood said.
Flood explained the auditions will consist of more of a team environment rather than a panel of judges watching one person at a time.
"Some places make [tryouts] a stressful environment, not intentionally, but we try to make it more of a team environment," he said. "The cheer will be evaluated on tumbling, stunting and motion techniques. The dance will be evaluated on dance techniques. They will be taught everything they need to know."
Once on the team, students will practice during the summer to learn game day materials.
"We will have summer practices including going to camp," Flood said.
The summer and the beginning of the school year focuses on learning the necessary skills, techniques and routines that will be used throughout the season, which lasts from August to the end of basketball season.
"The benefit for us is that we get to go to the tournament if the basketball team makes it to the NCAA tournament," he said.
Another goal for the spirit team, Flood said, is to compete in a national competition.
"I would like to go to the UCA/UDA competition," which is held in January in Orlando, Fla., every year."
The Spirit Team has been making improvements for next year including the addition of new cheer mats for the cheer floor that will improve safety and allow the Spirit Team to practice more skills.
Flood also said he likes to take a step up with the Spirit Team each year. He encouraged everyone who is interested to tryout.
"If people are interested, come tryout," he said. "Give it a shot. If you never try, you'll never know."
The Spirit Team also offers financial assistance to cheer, dance and mascots if they qualify.
For more information, contact Ryan Flood at (580)581-2461.
Tags Featured
You may also like...
Sorry - Comments are closed