Gratitude in a time of graduation: A good education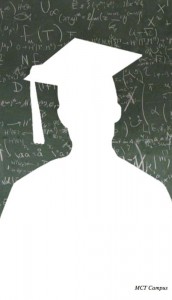 Carson Stringham
Staff Writer
Seven weeks. That's all the time I have left before I venture out into the real world, leaving behind this gilded cage of a life in academia.
I'm not going to lie. I'm scared of what the future holds. I do not adjust well to change. When I first made up my mind to come back to school after leaving the active duty military, I dragged my feet every step of the way.
I am thankful that my wife was there to support me and, when needed, push me along the way. Eventually I got the hang of having to study, doing homework and writing papers.
It has now been almost four years, and I have grown accustomed to Cameron University being my home away from home. I have enjoyed having the same professors time and time again. It has been comforting to move from class to class knowing that I would see the familiar faces of other English majors.
Most importantly, it has been fun to study the courses I wanted to, learning the skills that will carry me into a career that will hopefully be as fulfilling as I picture it being. And that is the topic I would like discuss today, to pass on what information I have gained thus far about seeking and applying for federal employment.
To begin with, I have decided to focus my job search on applying for editing and public relations jobs through usajobs.gov. While many of the jobs listed are open to anyone, those who are current or prior military or government employees will find they have a leg up on the process because they will have prior experience working within the realm of government employment.
Once I went to the site, I realized just how nice USA Jobs really was. The site allowed me to search for jobs based on type or location. Typing in a keyword or phrase in the site search engine brings up all the possible listings under a particular job title or skill; for my search, I typed in Copy Editor and Public Relations.
Once I hit "Enter," USA Jobs brought up a list of every job in their database they had under those titles, including ones overseas.
After looking through what jobs the site had to offer, I decided to actually apply for some. Clicking on the "Apply" link, I was redirected to the page where I got to create my username and password. Once my email was verified, my account was created, and I could actually apply for the jobs I wanted.
USA Jobs has a lot of nice features: it had me set up a profile for my contact information that would be attached to every job I applied for; I was able to create a blanket resume through the site, which is kept on file, that I can attach to my applications; it allowed me to save jobs that I looked at but didn't have to time to apply for right then and there; and it allowed me to upload scanned versions of my DD214 and Disability Rating letter to be attached to job applications that required proof of my service and rating. All of these things have made applying for jobs convenient and less time consuming. There is also a feature where the site will send me email updates – such as termination notices and status changes on my applications – on the jobs that I have saved and/or applied for.
I will say this – experience is definitely a plus. Many of the jobs I have looked at require at least one year of experience at the pay grade just below what the job is slated for; in other words, if the job is a GS-11, you must have experience working that job as a GS-10. However, one of my saving graces has been that many jobs allow for education to be supplemented for experience, thus allowing me to apply for jobs based on my skill and knowledge sets.
The application process for these jobs, besides attaching the resume and other scanned documents, includes a questionnaire for each job that asks about specific details required for each position. Some ask about my willingness to travel. Others ask what specific experience I have in the organization where the vacancy is – if it is a job with Veterans Affairs, do I know much about how the organization functions.
The best part about this whole experience has been realizing that my college education is a true and valuable commodity. I have received many chuckles and sideways glances over the years when I have told people that I am an English major, but seeing all the job opportunities out there that use the communication skills that I have learned and practiced over the course of my college career has been a real eye opener.
My advice to every student on campus is this: do not take your education for granted. Whatever you are studying, learn it well. Every class is an opportunity to grow – and the stronger you grow in the classroom – the more marketable and prepared you will be when facing the real world.
Tags Featured
You may also like...
Sorry - Comments are closed