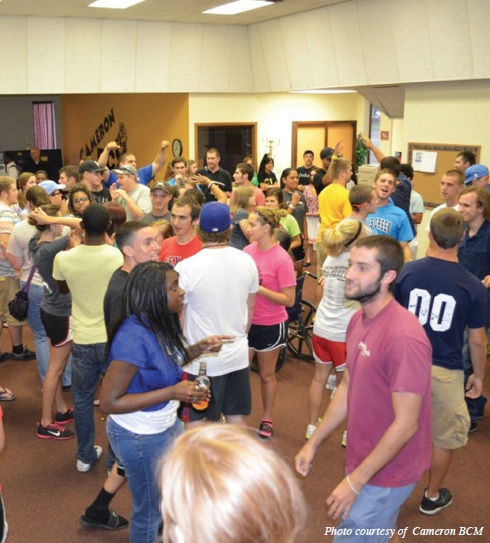 Sarah Brewer 
A&E Editor 
The Cameron University Baptist Collegiate Ministries organized a Focus Week for students from Sept. 17 through Sept. 20 at the Baptist Student Union building.
According to the BCM, this event was organized for students to get away from distractions, have fellowship with other students and focus on God.
Focus Week allowed student to take a break from the books and indulge in food and entertainment. There was a free lunch during each day and a guest speaker at night.
Rebekah Bowers, a senior Biology major, said that Focus Week was all about reaching out to students on campus.
She said it was a time to revive the hearts of believers and work on their religious commitments.
"The Focus Week is a revival week set aside to reach out to students on campus," Bowers said. "It is organized for students to give their focus back to God and spend time with other students."
The night program started at 9 p.m. throughout the week, and this is when the guest speaker was featured.
Bowers said the guest speaker invited was Mike Teel, the Associate Pastor of the adult ministry at Cameron Baptist Church. He explained the importance of maintaining a close relationship with God.
"He spoke about the second coming of Jesus, fulfillment of prophecy, the great tribulation and how to build a relationship with God," Bowers said.
Different Baptist churches throughout the community provided the free food for students. Different churches had plans for each day, and they supplied a variety of meals.
"The first night was the only time we had food, but various Baptist churches in the community provided the free lunches," Bowers said. "Some of the churches that sponsored us were First Baptist Temple and Indiahoma, located out of Lawton."
According to Bowers, there were over 100 students in attendance every night and the praise team created a great worship atmosphere throughout the event.
"Last spring we had an event during Easter week and the turnout was low," Bowers said. "This week there were over 100 students every night, which is a good thing for the ministry."
Ruth Okenye, a freshman Accounting major, said that there are times people need to be reminded of their duties as Christians.
"As a freshman, I feel it is a great thing for the church to remind us of our duties as Christians," Okenye said. "This is my first Focus Week in Cameron, and it reminded me that God will never give up on me."
According to Bowers, not only is the BCM available and welcoming to those in spiritual need, but the ministry also provides a meal for students every Wednesday.
"We also provide free lunch for Cameron students and faculty every Wednesdays from 11:15 a.m. to 12:30 p.m.," Bowers said.