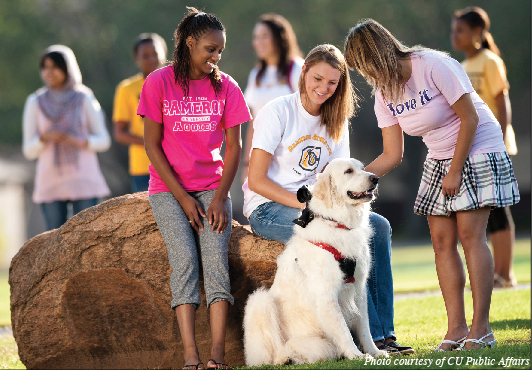 By Dianne Riddles
Some students may know that Cameron University Director of Student Support Services Doreen Thomas and her therapy dog Lilly provide stress relief for people from all lifestyles throughout the Lawton and Fort Sill communities. However, few people know how Lilly came to be a regular source of comfort for so many.
According to Thomas, she got involved four years ago with the Oklahoma Great Pyrenees Rescue in Eastern Oklahoma. She was the rescue coordinator for Western Oklahoma and helped the organization until the original founders retired one year ago, at which time Thomas took over. The Great Pyrenees of Oklahoma is now under the National Great Pyrenees Rescue and is a non-profit, 501c3 organization.
Thomas said that in April of 2009, she noticed a Great Pyrenees three days in a row in the same place under a bridge. She said that the dog looked very thin and hungry, it had ticks and a matted coat and it looked as if nobody had taken care of it in quite some time.
"On the third day, I thought to myself, 'Okay, this dog has been dumped by somebody and I've got to see what I can do to help,'" Thomas said.
According to Thomas, she was able to coax the large dog into her vehicle and took it home where she kept it tied out in the yard until she could get to know it better.
Thomas said that she had never seen a dog that seemed to be so down.
"She was so sad and depressed that she just laid around and whined for several days," she said. "She wouldn't even eat for two or three days until she figured out that she was safe and in a place where she belonged."
Thomas said that she took the dog to the veterinarian for a health check and found that the large, sad dog just needed food, grooming and someone who cared. Once she realized that nobody was going to claim the dog, Thomas named her Lilly and welcomed her into her home.
Thomas said that she had always had an interest in the Therapy Dogs Program, so she did some research and learned more about Therapy Dogs International in conjunction with the Red Cross.
According to Thomas, a Therapy Dog candidate must be at least 1-year-old, must pass a basic obedience course and then must pass The American Kennel Club's Canine Good Citizen test. After mastering these skills, the dog must pass the American Red Cross' Therapy Dog Certification, which is a series of 15 tests designed to assure that the dog is capable of working around medical equipment, and the sights and sounds that are generally associated with schools, nursing homes and hospitals.
Thomas said that when Lilly successfully completed the tests and earned her Certification as a Therapy Dog, she started to work helping people, aiding in the relief of stress, anxiety and depression.
Thomas said that she tries to have Lilly on campus as much as possible, generally three or four days per week. Some events, though, such as the CU Health Fair or Disability Awareness Day, where many people approach and pet Lilly is by in a short time, makes Lilly extremely tired.
"Sometimes she just needs a day off to rest," Thomas said.
According to Thomas, people generally have misconceptions about working dogs. Thomas said that although a person should ask before approaching any dog, Lilly is not a service dog such as a sight or alert dog, so it is okay to walk up and pet her.
Thomas said that Lilly's size intimidates some people, as she is over 100 pounds, but she also said that Lilly would not hurt anyone.
According to Thomas, Lilly has acquired nicknames with regard to her ability to relieve stress, anxiety and depression.
"She has been called, 'Lilly, The Stress Buster' and 'The Four-Footed Furry Therapist,'" she said.
Thomas encouraged students, faculty and staff to stop by 431 N. Shepler or to call Student Support Services at 580.581.2352 to find out when Lilly is on campus and available for visits.