Academic Festival X: Kristin Stewart and Foreign Policy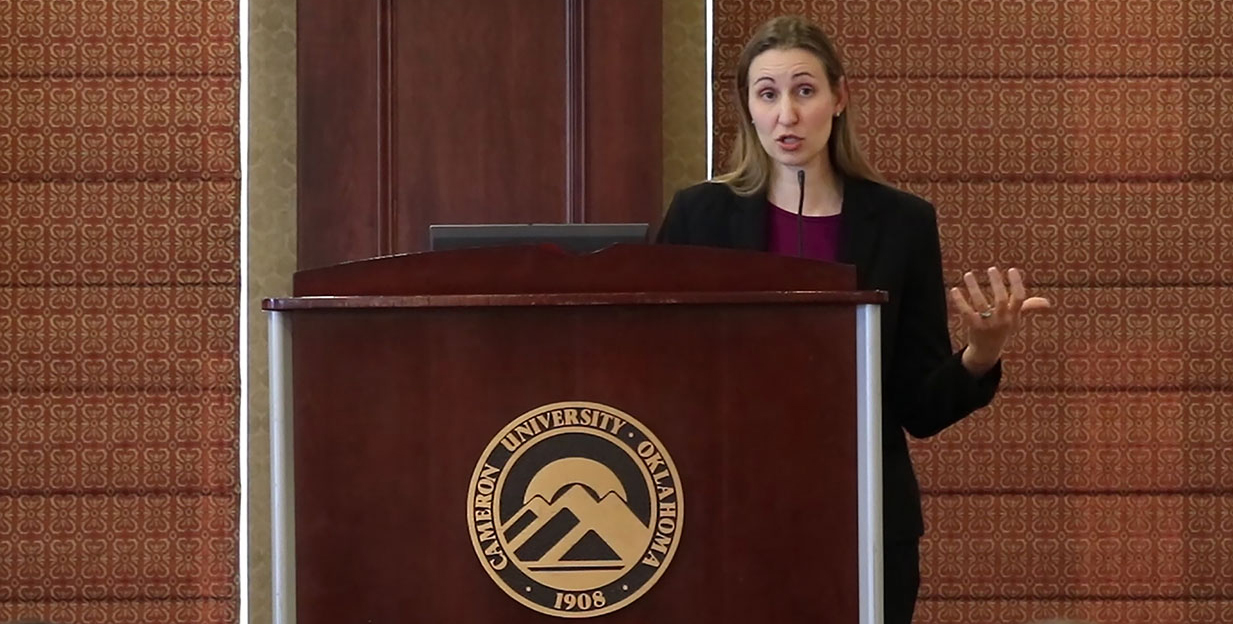 Justin Rose
Staff Writer
As part of Cameron's Festival X: American Identities in the 21st Century, the university's Department of Social Sciences hosted the American Diplomacy in the World Today event featuring U.S.
Department of State Foreign Service Officer Kristin M. Stewart at 2 p.m. on Jan. 17, in the McCasland Ballroom.
Stewart started her career in 2002, serving in diplomatic assignments at six overseas posts.
Before taking her current assignment, Stewart served as the Public Affairs Officer at the U.S. Consulate in Basrah, Iraq.
Stewart told the audience members that she had many experiences that she would have never had if it wasn't for being in the Foreign Service.
Stewart went through the good, the bad and the ugly experiences that she has encountered in her job. She started with telling the audience about one of her good experiences.
"I was able to share my life experiences with young Iraqis," she said. "When I asked them if they ever met an American before, a lot of them said no, so I was really honored to be the first American and maybe only American that they might meet."
Stewart then went into detail about the bad parts of her job. She said that it is difficult to get adjusted to living in countries that are different than the United States.
"There is no better named career field," she said. "Foreign and Service, you will be in foreign countries, they won't be like America and you will be serving your country."
Political science major Robert Day said that his career sights were definitely broadened thanks to Stewart.
"Just the range of what the State Department actually does and the different career opportunities that are available of different specialties," he said. "I didn't even know you could join the State Department with just a Bachelor Degree right when you get out. So, it's something I'm going to look into."
At the end of the event, a Q&A session started between Stewart and the audience.
Stewart answered one question about what happens to her department in the event of government shutdowns or budget cuts.
"The last time there was a budget cut," she said, "I was in Panama, it was 2013, the government did close for three weeks, about 85 percent of our staff stayed on."
The last question asked during the Q&A had been about how Visa programs have changed under the new administration.
"There actually haven't been changes," she said. "The Immigration and Nationality act was first written in the twenties, some amendments in the forties, some amendments in the sixties. We haven't fundamentally changed our immigration policy in many, many, many decades actually."
To learn more about a career in Foreign Service, go to careers.state.gov.
You may also like...