Tiffany Martinez
Assistant Managing Editor
Professor of Communication Dr. Matt Jenkins took center stage welcoming questions and comments following the premiere of his production, "The Secret of Sarah Pennington," on the evening of Jan 25 at the Trail Dance Film Festival in Duncan, Okla.
The premiere of "The Secret of Sarah Pennington" at the annual two-day festival — an event that serves to encourage originality and creativity in film and promote the film industry in Oklahoma — reeled in CU students and faculty, as many took part in its creation.
"Student Tiffany Hudson was phenomenal as director of continuity, and Cameron professors Steve Adams, Chris Keller and Justin Walton all die in the movie," Dr. Jenkins said. "Art professor Andrew Baker lent us an $8,000 violin to use in the movie — yes, I was nervous about handling it!"
According to Dr. Jenkins, his previous students were also involved in the creation of "The Secret of Sarah Pennington."
"We had a New York City location in which there was a stunning view of Manhattan looking uptown with the Empire State Building and the Brooklyn Bridge visible in different shots," Dr. Jenkins said. "Cameron graduate Marjorie Negron directed the scenes filmed at that location which turned out really well, and it was a great experience to work with her in New York City."
Although this is his first attempt at creating a horror film, Dr. Jenkins has been featured in a number of other film festivals, including the Greenwich International Film festival, Tupelo Film Festival, Indie Gathering, Bare Bones Film Festival, Brooklyn Underground Film Festival, Berkeley Film and Music Festival, Comanche Nation Invitational Film Festival and deadCenter Film Festival for his production of documentaries, dramas and comedies.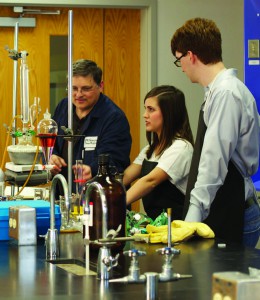 "I come from a family that has a background in art and technology," Dr. Jenkins said. "I think filmmaking is the best of both worlds."
Dr. Jenkins filmed, wrote, produced and edited the screenplay alongside two fellow filmmakers.
"I work with Doug McAbee and Charles Stanley, and we strive to produce a feature length movie every two years," he said. "We plan our writing, shooting, editing and festival around that time frame. While each moving picture has similar elements, each one takes an individual journey to completion."
The most challenging part of creating the horror film, according to Dr. Jenkins, was working with digital single-lens reflex (DSLR) cameras.
"Working with DSLR technology was a new experience for me," he said, "but I did so at Doug's recommendation and I'm thrilled we did.
The Secret of Sarah Pennington" has been entered into 14 film festivals already, and Dr. Jenkins plans to enter it into 14 more festivals.
"Our goal is to have a great festival run resulting in initiating conversations with potential distributors," Dr. Jenkins said.
The latest acceptance of the film, aside from the Trail Dance Film Festival, has been from The Friday Night Film Fest in Louisville, Ky.
"I've been told that over 15,000 people attended last year," Dr. Jenkins said, "so it is a huge festival to get into. I've also been told that our picture was chosen out of more than 700 entries, so we are excited about screening here."