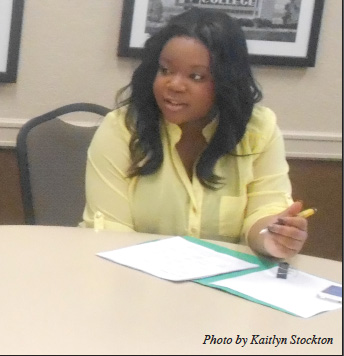 Kaitlyn Stockton
Staff Writer
Cameron University students experienced the diversity on campus in the Student Development's
Diversity Bingo event.
In another installment of the CU Succeed Series, Coordinator of Diversity Affairs Taylor Thompson
hosted the event to spread awareness of the diversity of students on campus. The event took place at 11 a.m. on Feb. 19 in the Centennial Room. Thompson — who hosted the first Diversity
Bingo in the fall semester — said the event was well-received enough to bring it back again. According to Thompson, the event was a take on classic bingo with a twist. "Diversity Bingo is kind of a play on the actual game bingo, but instead of having
numbers in the squares, there are descriptors of certain groups and characteristics," Thompson said. "One descriptor will say grew up in a single
parent household or Native American, and you have to go around and ask them [the players] if they qualify in this section." Thompson said the event helps students learn how to
communicate in awkward situations and work with others that may be different from themselves. "It can create some uncomfortable situations," she said. "We have one square that asks if anyone is transgender. It is sometimes about having difficult conversations and knowing how not to offend someone
when asking these type of questions." Thompson said she enjoys playing the game with
students. While she always has fun with the groups, she said the success of the event rides on the number of participants.
"The more students that come and participate, the better the experience will be," she said. Thompson said she thinks such an event is an important staple to any campus. She said it is a fun
way to allow students to become aware of and accept the diversity of the Cameron environment. "I think it is important because we do need to increase the awareness of diversity on campus and so that people will learn to accept others that are different from them," Thompson said. Thompson said she believes students should
attend Diversity Bingo to experience something new. Students not only receive the chance to make new friends, but to also learn about other cultures and lifestyles. "Students should attend
just to do something different and meet other students on campus," she said. "It gives them the opportunity to learn more about someone they might
not have come in contact with." Thompson said she
sees the game as a useful tool for people in need of icebreakers. The game not only lets people of different backgrounds interact, but makes them work together in order to win prizes. "I think it is a good idea for RAs on campus. They interact with so many students from different
cultures and backgrounds," she said. "This event could be an icebreaker event to begin new semesters." For any students or organizations looking to put on their own Diversity Bingo event, Thompson said she is willing to help by providing bingo sheets and even hosting the game.
"If students ever want to put on this event with a group of friends, I am willing to come and host it," Thompson said. "I can see Diversity Bingo as something that professors or classrooms can use to begin new semesters." Thompson said students and professors may contact her for more information about the game.
"We prefer a two week notice before putting on the game. If anyone would like more information, they can contact or call me or Student Development," she said.