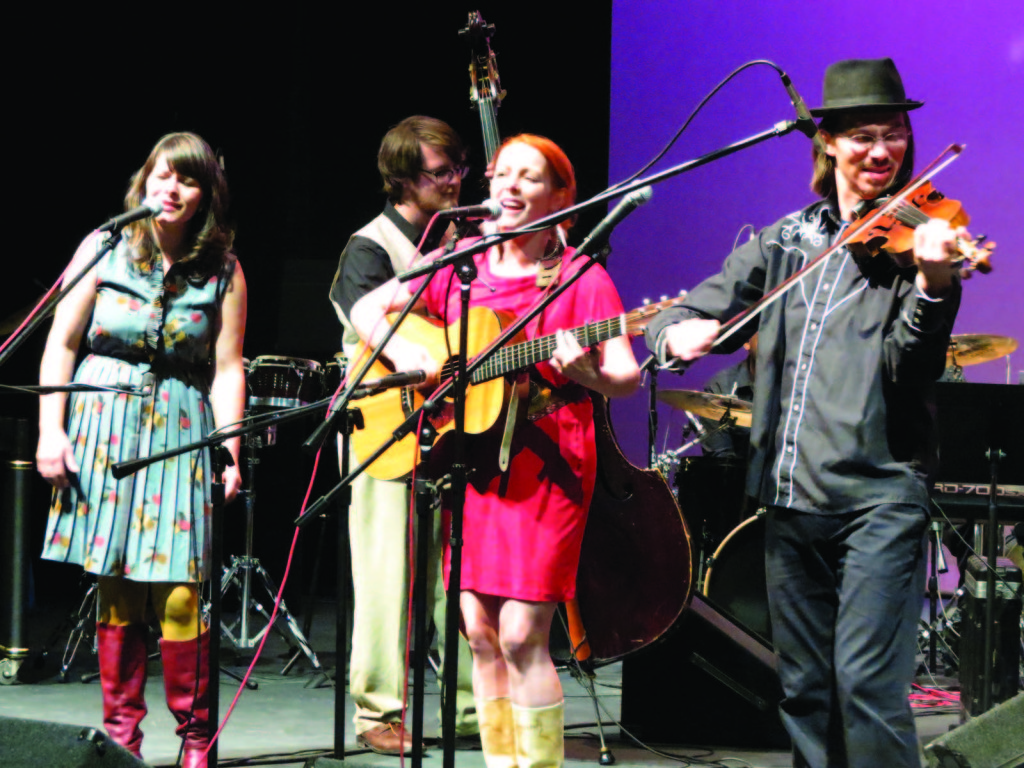 Story by James Meeks
Video by Kyle Bush
The CU Theatre became a concert stage when conductor Dr. Michael Compton fused the musical styles of country and jazz together on the evening of Nov 1.
Dr. Compton is an assistant professor at Cameron University who teaches students private woodwinds, jazz ensemble, community jazz ensemble and conducting.
Dr. Compton began the evening with the CU Jazz Ensemble, performing five pieces in the jazz style and two in the country/jazz fusion style.
[vimeo]http://vimeo.com/53346852[/vimeo]
The ensemble performed five pieces, with students also performing solos and creating the ambience of being in the 1950s.
Each soloist brought unique flair to the compositions; their instruments and playing styles took the audience on a journey of how the jazz era was like when bars all over the country would perform these pieces.
The two pieces were performed with country group The Blackberry Bushes Stringband. The group consists of three members: singer and songwriter Jes Raymond, Jakob Breitbach the fiddle player and Taylor Kent, who plays the standing bass.
The two pieces they performed with the Jazz Ensemble were compositions that Dr. Compton wrote. Dr. Compton said he encountered the Blackberry Bushes during his time at Cameron.
"Prior to this, I spent three years at Dickinson University in North Dakota, and this group came through a couple years ago," Dr. Compton said.
After the country/jazz performance, The Blackberry Bushes Stringband played a few of their own songs. The band also brought along performer Shannon Wurst to sing backup vocals and play banjo.
After their performance, a brief intermission was taken to allow audience members to talk, stretch their legs and talk to members of The Blackberry Bushes. Attendees also had the opportunity to buy Blackberry Bushes merchandise during the break.
After theintermission, the CU/Lawton Community Jazz Ensemble performed in the final hour of the concert, bringing students and local artists together to perform more jazz compositions.
One of the performed pieces, "I Remember Clifford," showed the talents of Brian Francis, a local trumpet player who performed the solo pieces of the song. His sound had a timbre that matched the somber tone of the blue backdrop behind him.
The Ensemble performed a total of five compositions, but the final two compositions were performed alongside The Blackberry Bushes.
The last two pieces came courtesy of The Blackberry Bushes as the two groups melded their styles together. One of the songs, Jes Raymond's "Mermaid," had a country feel, with banjo and fiddle working in harmony throughout the piece.
According to Raymond, the piece is supposed to be a contemplative one, as if someone were sitting in a field daydreaming.
"This is one I wrote sitting by a river, thinking about how we want to be seen for who we are," Raymond said.