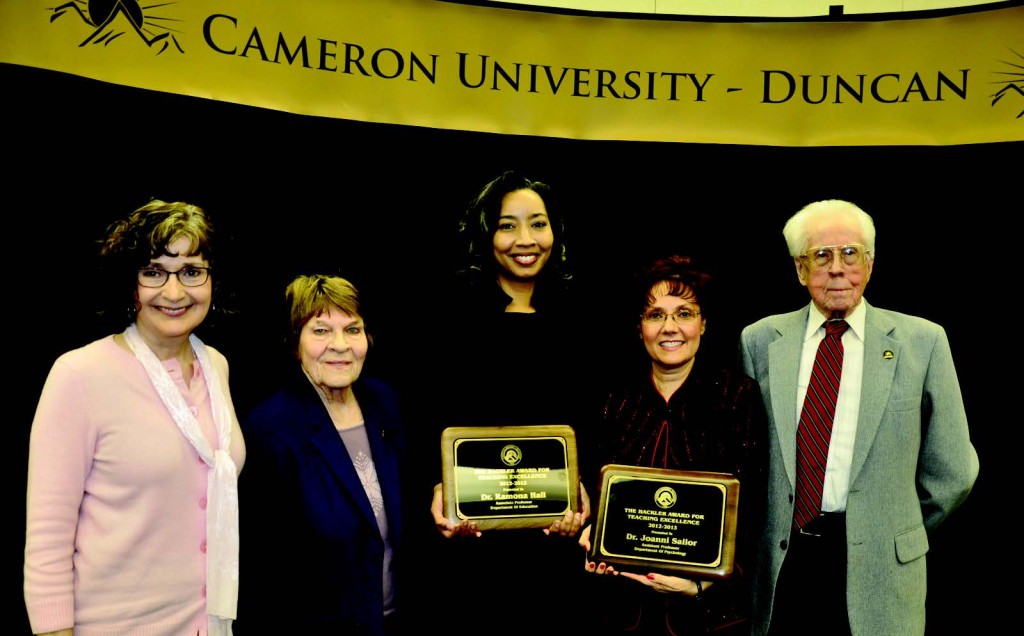 Kaylee Jones 
Staff Writer 
Cameron University honored the 2012 recipients of the Harold and Elizabeth Hackler Teaching Excellence Award on Tuesday, Nov. 13, at the CU-Duncan campus.
Dr. Ramona Hall, Associate Professor of Education, and Dr. Joanni Sailor, Assistant Professor of Psychology, became the two most recent members of CU's faculty to be recognized for their outstanding contributions in the lives of Cameron students.
The Hackler Lectureship in Teaching Excellence was established in 1996 by Cameron alumni Harold and Elizabeth Hackler. After Tuesday's reception, 24 CU faculty members have been recipients of the award.
Both Mr. and Mrs. Hackler were present for the ceremony, as well as CU President Cindy Ross and Provost John McArthur.
Two Cameron graduate students were selected to introduce the recipients. Matt Keenan, currently pursuing a Master of Education with a concentration in special education, introduced Dr. Hall. Jennifer Baker, presently working toward a Master of Science degree in behavioral sciences with a concentration in psychology, introduced Dr. Sailor.
Keenan was one of two students to submit a recommendation letter nominating Dr. Hall for the award, writing, "Dr. Hall embodies the core values that Cameron University requires all teachers to embrace and is a shining example of a caring, competent and committed professional educator."
Recipients of the Harold and Elizabeth Hackler Teaching Excellence Award are nominated by faculty and students and must have served as regular full-time members of the CU faculty for at least three years. Nominees that hold an appointment as an assistant professor or higher are eligible for consideration.
The nominee's primary assignment must be teaching.
Dr. Sailor said the award was a proud moment in her career.
"I was very honored to be awarded Cameron University's highest honor in teaching excellence," Dr. Sailor said. "It was the highlight of my educational teaching career."
Dr. Hall expressed a similar sentiment: "I was so very honored. I couldn't believe it. I mean, when you think about the list of previous recipients, they're amazing individuals. I was so honored and humbled and grateful."
Dr. Hall, nominated by Dr. Jennifer Dennis, Chair of the Department of Education, currently teaches three classes at CU. She has been a member of Cameron's faculty since 2003 as a teacher as well as serving as the Director of Assessment.
Dr. Mary Dzindolet, Chair of the Department of Psychology, nominated Dr. Sailor for the award, referring to her as a "superb teacher."
Dr. Sailor joined Cameron's faculty in 2009. She currently teaches six classes at CU.
Both award winners will receive a stipend and grant for professional development through the Hackler endowment.
Dr. Hall said she is uncertain as to how she will allocate the grant.
Dr. Sailor said she plans to use the funds from the award for student travel. In addition, she said she would like to take students to professional state and national conferences.
"Finding ways to spend funds on students is unlimited," Dr. Sailor said.
In addition to receiving the stipend and grant, Dr. Hall and Dr. Sailor's names will be added to the Hackler Award honor roll that is on display at the CU-Duncan campus.