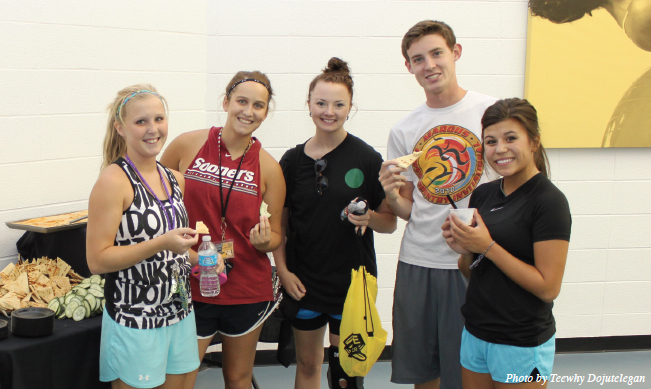 Story by Teewhy Dojutelegan
Video by Paola Troche
Cameron University students returned from the summer break to see a big change in a building formerly known as the Fitness Center.
The renovation and the subsequent renaming of the CU Fitness Center to the Aggie Rec Center is a move that many students think is long overdue.
Moshood Ojulari, a junior majoring in Information Technology, said the renovation now appeals more to students.
"I have been to the fitness centers of a few universities, and these changes are great," he said. "The Rec Center attracts us now."
Ojulari also said that the changes ref lect the growth of CU.
"Now, I know that our hefty student facility fees are being put to use," he said. "I hope we keep seeing more changes. This is not the time to stop."
Lendi Clodfelter, the manager of the Aggie Rec Center said there was a need to rebrand the building to make it less intimidating to students who are simply not into body fitness.
"For students who have not worked out before, the term 'fitness center' can be intimidating. They expect to walk in and see buff, strong people working out," she said. "That is not the kind of image we wanted. Rec Center is one of the softer images to appeal to people who may just want to play sports or exercise."
[vimeo]http://vimeo.com/49313578[/vimeo]
According to Clodfelter, the idea for change came after visits she made with the Director of Campus Life, Zeak Naifeh. She learned that fitness centers across the state were being renovated.
"The building was built in 1990 and one of the things we wanted to do was to go more towards the traditional black and gold Cameron colors," she said.
Clodfelter also said some of the changes made included equipment refurnishing and provision of new f looring to the facility.
"We reupholstered a lot of our equipment so it looks newer," she said. "We also had new f looring around the building."
According to Clodfelter, new cardio machines were provided, and one of the racquetball courts was converted to a spin bike room.
Clodfelter explained the finer aspects of spin biking.
"Spin biking is supposed to be an equivalent to cycling outside but the biker is indoors," she said. "There is an instructor who leads the group on workouts such as sprints or different biking on different terrains, all with music and lights to create an energized atmosphere."
Clodfelter said the use of identification cards would be enforced this year.
"We will enforce the use of the ID cards. It will help us collect data on people coming into the fitness center" she said. "That way, student suggestions can be backed up with data and statistics."
Clodfelter said she wants students to visit the facility and enjoy everything that is being offered.
"We want you to come in," she said. "You should definitely enjoy the facility even if it is putting time in-between classes."