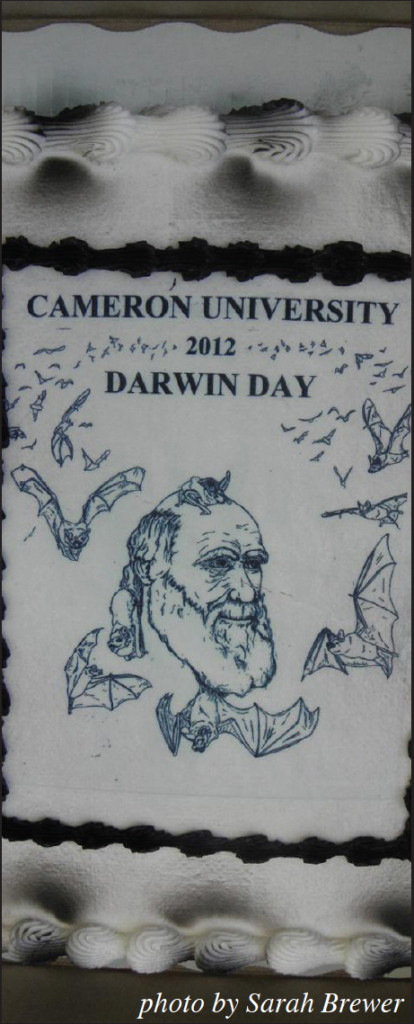 by Sarah Brewer
To mark the birthday of the evolutionary biologist Charles Darwin, members of the CU biology honor society Tri Beta (BBB) and the CU Biology Club hosted a Darwin Day party on Feb. 10 in the CU Science Complex.
Darwin Day, an international celebration held on or around Feb. 12, not only recognize the life and discoveries of Charles Darwin, but also celebrates the human curiosity and ingenuity  which benefits the advancement of all sciences and humanity.
Dr. Michael Husak, a CU Associate Professor who teaches courses like zoology and ecology, explained why the birthday of Charles Darwin was chosen as a day for celebration.
"We could have picked any other day of the year to celebrate it, but Darwin is an iconic figure. You see him, and you think: Evolution.  Everyone does," Dr. Husak said.
Dr. Husak went on to explain the importance of Darwin's achievements and discoveries.
"By proposing natural selection, he gave us a mechanism that was testable hypothesis that has been demonstrated again and again," he said. "He helped us build the one unifying theory we have for the discipline."
Guests who attended the event included students and faculty from various disciplines and departments, all honoring the legacy of Charles Darwin while participating in several party activities.
First on the itinerary was a showing of "Charles Darwin and the Tree of Life,"  a  documentary that chronicled the life of the evolutionary biologist and focused on his numerous  expeditions, his exhaustive research and his fascination for the diversity of life.
Guests were then treated to a complimentary lunch and a slice of birthday cake and received party favors in the form of t-shirts.
Guest speaker Dr. Loren Ammerman continued Darwin Day with a presentation entitled "The Beauty and Mystery of Bats."  Ammerman, an Associate Professor from Angelo State University, outlined how the 1,200 existing species of bats are classified into either the Megachiroptera or the Microchiroptera suborders by comparing their visible physical attributes.
Ammerman discussed how her research also involved the use of molecular systematics, a field in which DNA analysis is used to determine relationships among individual organisms and between entire species.
During her presentation, Ammerman also took Darwin Day guests on a field trip, showing them her photos of sites related to Darwin, including his alma mater at Christ's College at Cambridge University.  In addition, Ammerman shared her personal photos of different species of bats she had studied and collected in Indonesia, South America and in the United States.
Ammerman described the appearance and behaviors of several bat species and discussed how their classification is part of an even greater work.
"Darwin was an avid collector; I have collected mostly bats, but Darwin was interested by this great diversity of life that he had been trying to organize into some meaningful framework.  This framework is the bio-genetic tree," she said.
The party concluded with a trivia game in which guests were challenged to answer a series of questions based on facts gleamed from the documentary shown earlier that day.
Charles Bingham, who currently serves as President of both the CU chapter of BBB and the CU Biology Club, awarded points to the teams who answered each question correctly.
Bingham, maintains that students who study any of the sciences often build upon the research and work done by their peers.
"I would want students to know that even their contributions to science would be great." he said.