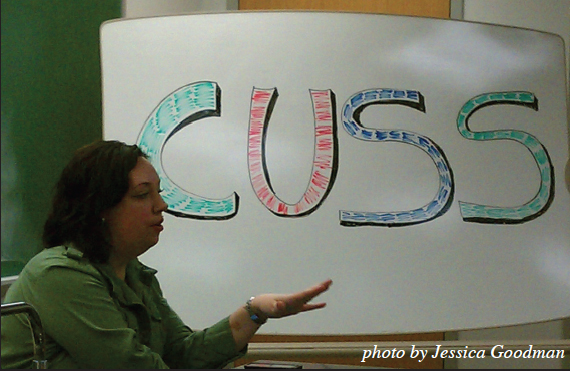 by Jessica Goodman
video by Tiffany Smith
A group of students are meeting on campus to discuss ideas neither pertaining nor connected to religion.
Cameron University Secular Students (CUSS) is a group which allows their members to hold discussion on topics such as the death penalty and birth control. Daniel Billings, a 23-year-old Psychology major and CUSS President, explained the purpose of the organization.
"CUSS provides a form of discussion for any atheists, nontheistic agnostics, secular humanists, and so on and so forth," Billings said. "It provides a good discussion on secular topics and even some not necessarily anti-theist topics, ranging from the death penalty, birth control and polyamory."
CUSS does not impact campus alone. Together with the Biology Club, the group celebrated evolutionary biologist Charles Darwin's birthday, inviting a speaker to discuss the evolution of bats. On Feb. 14, CUSS came together with PRIDE to celebrate National Condom Day. On Feb. 16, the group held their first movie night of the semester, showing "For the Bible Tells Me So" and "Saved."
[vimeo]http://vimeo.com/37188498[/vimeo]
According to Brandon Atkins, a 21-year-old undeclared major, Students greatly benefit being a part of CUSS, if not for the feeling of unity.
"CUSS provides a sense of community," Atkins said. "It gives me the opportunity to provide different viewpoints, as well as letting me meet other atheists who think like me. It's kind of like church. You like to meet with people that think like you, to get with people who share your same viewpoints and CUSS lets you do that."
Atkins also feels that members give something back to the group; that discussion is a two way street. A person may gain an understanding of a viewpoint while being able to share their own views on a topic.
"I like to think that I provide a different viewpoint," he said. "Different topics that we like to discuss, like polyamory and the death penalty, I think that I have a unique viewpoint on them because of how I was raised."
Ashley Gormley, a 22-year-old Creative Writing major, believes that CUSS brings something to the Oklahoma area ordinarily lacks, being located in what many people claim to be the "Bible Belt."
"CUSS provides something for me that we don't have enough of in this area of the country, this sort of Bible belt community, which is the freedom to speak on religion on an intellectual scale," Gormley said. "The fact is, most people in our part of the country
are Christians, have been raised Christian and will die Christian."
Gormley explained that CUSS allows a space for students who have ideas and thoughts about topics that are different from the normal and a group of people to discuss them with.
"There is not a lot of openness to other ways of thinking, other religions and other different ways to live your life," she said. "I like the ability to sit with other people who intellectually stimulate me, who I can talk to about pretty much anything."
CUSS meets at 5:30 p.m. on Thurs. in the Science Complex room 103.