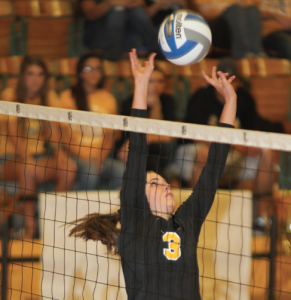 By Aaron Gill
The Aggie volleyball team has been putting in some serious work throughout the first part of their season and Coach Doug Tabbert has helped in leading the lady Aggies to their current standing in the Lone Star Conference.
The Aggies went on the road throughout Texas for a few days recently, hunting for some victories. Stopping in Kingsville and San Antonio, the Aggies went 1 for 2 in their victory hunt.
Coach Tabbert was not very pleased with how the Aggies played on Sept. 15, against Texas A&M Kingsville. The Aggies lost three matches and went back on the road.
"It was just not a good performance by us," Tabbert said, "we really struggled in just about every facet and just could not really get anything going."
All that changed as the Aggies hit the road for a match on Sept. 17 against Incarnate Word in San Antonio. Tabbert was much more pleased with this performance, as the Aggies ended up winning three games to one.
"We bounced back really well," Tabbert, said, "I was very pleased with how we responded to that."
Coach Tabbert was excited to see how everything that happened on Thursday had turned around by Saturday.
"All the things we did not do very well on Thursday we did very well on Saturday," Tabbert said.
The Aggies had completely changed the way they played the game and it worked out to their advantage as they pulled out the win against the Cardinals.
"Our serving game was much better," Tabbert said, " we have got offensive production from more players and we were much more competitive."
Coach Tabbert although pleased with how the Aggies have been playing is out to prove that the Aggies are a team to be reckoned with in the conference.
"I'm a little guarded because when I look at the teams that are ahead of us in the standings and we have only played one match against those teams," Tabbert said. "Clearly we are exceeding the expectations the other conference coaches had voted us into in the preseason poll."
Coach Tabbert is excited about how the new additions to the Aggie volleyball team have been playing so far this season.
"Kelle Carver has responded really well and has played very well against Incarnate Word," Tabbert said. "Julisa Ocasio is more veteran than new comer and she has done a lot more than what we had expected from her."
The Aggies still have many matches left to play throughout the next couple of months. Coach Tabbert is ready to see just how his Aggies can better last year's performance as far as a win/loss record. The conference play has only just begun and the Aggies have something to prove to the other schools that voted them last in preseason polls.
"My expectations are that we can compete with schools in the conference," Tabbert said.
The Aggies will be putting in some hard hours on the court as they are just slightly over a quarter of the way done with their season.
Coach Tabbert and his lady Aggies can certainly prove to everyone on campus that they are a team that is here to show everyone they can be a program that people will respect and want to come out and support.
"I want to show everyone that we are a quality volleyball program," Tabbert said.
The Aggies still have a few home games left in which the students and community can help in creating a winning environment by showing their support for the team.
For volleyball statistics and schedule information visit www.cameronaggies.com