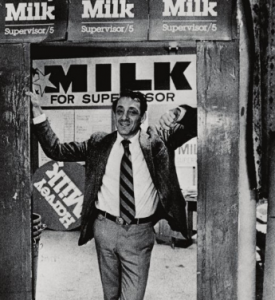 by Ashleigh Fletcher
The Cameron University organization People Respecting Individuality, Diversity and Equality, more commonly known as P.R.I.D.E., is gearing up to host the communities first ever Harvey Milk March for Hope.
Harvey Milk was the first openly gay man elected to public office in California and was shortly after assassinated by another public official.
This event is widely recognized and annual marches take place across the nation in his honor.
Admissions Coordinator and P.R.I.D.E. Faculty Advisor, Jennifer Castricone, offered details about CU's first ever Harvey Milk march.
"The Harvey Milk March for Hope is an event that takes place every year at different locations across the nation," Castricone said.
"This year, because of the timing of the national event, we will be holding our march early and combining it with the National Day of Silence, a day dedicated to those in foreign countries punished or put to death for their homosexuality," Castricone said.
The group will be mixing aspects of both The National Day of Silence and The Harvey Milk March For Hope. Everyone in attendance is asked to follow tradition for the day of silence by wearing a white T-shirt for the march.
According to Castricone, prior to the event, the group will be making signs at their regular meeting in preparation for the march.
"P.R.I.D.E. will be making banners and signs at the meeting before the march and openly welcoming anyone who wants to help," Castricone said.
Castricone credited the birth of this event to one student, Christine Sanches.
"This event was planned and organized by CU student Christine Sanches," she said. "Christine came up with the idea, it is her baby."
Castricone explained that the Event will start with a march and will end with a short presentation and candlelight vigil.
"We will march down to the Bentley Gardens gazebo in front of North Shepler and there we will have a short presentation in which the Harvey Milk Speech for Hope will be read and recognition will be given to the National Day of Silence," she said.
"We will also pass out candles and at the end of our presentation encourage everyone to walk back to their cars with their candles lit."
Castricone stresses that this event and organization is open to the community and not in any way limited to only CU students and faculty.
"This is a community event and organization. We welcome members of the community with open arms and encourage any and all to participate," she said
The march will take place April 15 at 6 p.m. and will start at the corner of Gore Blvd. and University Drive in front of the Cameron sign. Step off will be at 6:03 p.m.  The event is open to the public and parking will be available in the Howell Hall parking lot.
Castricone expressed hopes of making this an annual event and mentioned it being one of the first gay pride events to hit the streets of Lawton for some time.
"We are hoping to make this an annual community event," Castricone said, "This will be the closet to a Lawton gay pride event that this city has seen in many years."
For information on P.R.I.D.E. or the Harvey Milk March for Hope contact Jennifer Castricone at 581-2236 or by email at jcasricone@cameron.edu.