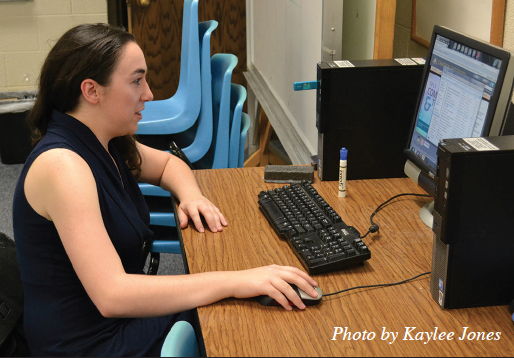 Kaylee Jones
A&E Editor 
Cameron University's Speech and Debate team recently placed fifth at the 3rd Annual Junior Varsity National Tournament in Hutchinson, Kansas.
The small team, comprised of a mere five female competitors, the majority of which are brand new to the activity, took fifth place in the Division 1 Overall Sweepstakes. The tournament took place March 8th through the 10th.
Division 1, as Sarah Collins, CU's Director of Forensics, explained, is the top tier of three divisions in the competition.
Collins said, for a burgeoning team, the placement served as an encouraging push in the right direction.
"I think that they were disappointed some when they didn't have the individual success that they wanted to," Collins said, "but when they got a team award, I think it really encouraged them, which is good, because I would like to focus on team awards."
The fifth place standing required the five individuals to participate in a total of 13 events, with sophomore Communication major Katelynn Wright participating in five events alone.
Wright placed third in Communication Analysis, seventh in National Parliamentary Debate and 10th in individual sweepstakes.
"The events are really hard," Wright said. "It's not really hard to construct, what's hard is finding something to do. Like finding a topic for a speech event, whether it's platform or interpretation, it's really hard to do, because you have to find what is relevant for now."
Other victories included that of Kynzie Pierce, a freshman with no prior experience, who placed fifth in Informative Speaking. Also in attendance were members Bishaka Karki, Cassandra Stanga and Savanah Freeman.
Preceding the JV Nationals Tournament, members Stanga and Freeman had not participated in many tournaments.
"The first tournament they went to was the State Tournament … and they observed there," Collins explained. "Their next tournament was JV Nationals."
The success has shed a positive light on an otherwise rocky semester. Upon returning from Christmas break, the team underwent a shocking reduction.
"It was rough," Collins admitted, "but it's rough with any sort of transition. We went from eight students to three."
Collins expressed her excitement for recruitment opportunities, "They [the current members] are all coming back next year. I'm excited to see what they're going to do."
Wracking research: Communication major Katelynn Wright researches the events in which she is to compete. Wright walked away from the Junior Varsity National Tournament with two individual awards.