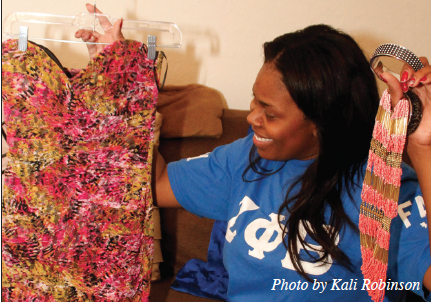 Dianne Riddles
Crossroads Editor
Members of the Lawton Zeta Epsilon Zeta chapter of Zeta Phi Beta Sorority, Inc., seek to empower young women through upcoming events.
According to sorority member Miracle Barnes, a 29-year-old Department of Human Services Child Welfare Worker, the organization is very active in the community. She said each member of the sorority feels strongly about the empowerment of women and providing positive interaction to promote such in the lives of local young girls.
Other members include: Kiara Reed, a 23-year-old United States Army Officer; Sherry Walker, a 32-year-old United States Army Specialist; Keshia Streeter, 25-years-old, DHS Child Welfare Specialist and Krystal Lewis, 31-year-old, program support manager for Employee Partners Office.
"We are very community oriented; we are very involved with providing our services — as much as we can — to the community," Barnes said. "We do a lot of events in the community."
Barnes said that the employment of two of the sorority members helps to facilitate the organization goals.
Barnes said that the ladies' professions tend to benefit the organizations efforts within the community.
"Two members of our sorority work for DHS, and we have a lot of involvement with the children of our community that are in need in different families," she said. "So we definitely use that as grounds to aid us in establishing need."
Streeter said that the event, A Second Time New, was established when the group realized they wanted to reach out to teenage girls.
"With A Second Time New, we wanted to reach out to high school students and we wanted to teach them etiquette, how to dress, how to be more ladylike, how to be a finer woman — not to join our sorority, but just to be better inside," she said. "So we thought we could reach out and enrich them by giving them prom dresses and homecoming dresses, especially reaching out to the less fortunate girls who cannot afford a nice prom dress or a homecoming dress."
According to Streeter, the prom dress event will not take place until the end of summer to allow the group time to organize everything.
"We will probably hold this event between August and October so we will have enough time to prep, talk to the school superintendent, talk to the schools so we can get a list of names of some girls who are actually in need of dresses," she said. "If we do it for homecoming, then we will have ninth through 12th grade girls coming and we will give them a dress for free."
Streeter said that a Mary Kay rep would be donating her expertise to help the young ladies with makeup.
"We will also have a Mary Kay rep coming — to teach them how to put on makeup, how they should dress and pretty much how they should carry themselves."
According to Streeter, next month, on April 13, the organization will host the Let's Walk for Her, a one-day event at Elmer Thomas Park.
"The Let's Walk for Her event is pretty much a walk for any woman that has struggled — from the richest woman to the poorest woman," she said. "W-A-L-K is an acronym — Women's Awareness for Lasting Knowledge."
Streeter said that they hope to get people throughout the community involved in this event.
"We are going to try to reach out to other organizations, other sororities, fraternities, community groups, American Red Cross, Susan G. Koman, Storks Nest — just a whole bunch of different businesses around the area to come out and walk for us and set up a booth or a table so they can give out information," she said. "We will also have a big high heeled shoe there for collecting used, slightly used or new shoes that we are going to donate to the battered women's shelter, foster care and anybody else that needs shoes for women."
Streeter said that all members enjoy giving back.
"Giving back is one of the reasons that we all join, and we don't mind doing it," she said. "Our principles are finer womanhood, sisterly love, community service and scholarship, so community service is one of the big pieces of our organization."
Walker said that she strives to empower young women.
"My goal is to transform the mind-set of some females," she said. "You know, right now in society there are videos, and if you look on Facebook, there are pictures saying you have to have this and you have to have that – my goal is to transform that mind-set."
Walker said that she wants to move people to become better.
"You know it's all about being happy in life; if you're unhappy in life, you are just moving with the motions," she said. "Don't just go with the motions; make the waves that move you."
Lewis said that she applies her life principle when she encounters other people.
"The principle that I live by is an acronym for power — purpose oriented woman empowered by righteousness," she said. "I try to make sure that in all things that I do in my life and with the people that I encounter, I make a positive impact.
According to Lewis, everyone has the opportunity to make a positive impact on someone's life.
"You have to realize that every person you touch — you make an impact on and you have to decide what kind of impact you are going to have on him or her and their life," she said. "With young women, you always want to make sure that they know they are worthy and valued and that you make that lasting impression on them."