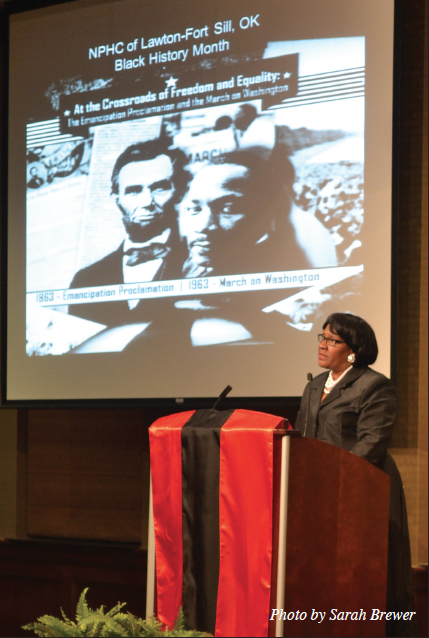 Sarah Brewer
Copy Editor
Shades of crimson bedecked the McCasland Ballroom when the sisters of the Lawton Alumnae chapter of Delta Sigma Theta, Inc., celebrated its centennial year and sponsored the Lawton-Fort Sill National Pan-Hellenic Council Black Heritage Banquet (NPHC).
The annual event took place on the evening of Feb. 23. Its theme, "At the Crossroads of Freedom and Equality: The Emancipation Proclamation and the March on Washington," was meant to focus on the 150th and 50th anniversaries of these events.
Barbara Ellis, the president of the Lawton Alumnae chapter, said this year is significant for the sorority because it is now stronger than it has ever been.
"There is nothing better than celebrating being 100-years-old when your organization starts with 22 young college women who never anticipated that it would be more than a college organization or club, so it's awesome for all of us and our principles are still alive — that makes all the difference in the world," Ellis said.
Ellis said her sorority was pleased to present the banquet and its keynote speaker, Dr. Louise A. Rice.
Dr. Rice is the Immediate Past National President of Delta Sigma Theta Sorority, Inc., having served for four years as Chief Executive of the Premier National Service Organization comprised of predominantly college educated African American women residing throughout the United States and several foreign countries. Under her leadership, the sorority established the Delta Hurricane Katrina Relief Task Force to fulfill the housing, financial, health and wellness and emotional needs of Gulf Coast residents and other displaced individuals after the hurricane struck.
Dr. Rice began by commending the members and leaders of the sororities and fraternities for hosting the banquet and stressed the importance of knowing the history of civil rights in the United States and the need for remaining bonded in their endeavors, she said, is necessary to expedite further social reform.
"Celebrating black history is an opportune time to remember those upon whose shoulders we stand, and it is the ideal time to educate all generations about the accomplishments that we, as African Americans, have made to build our great nation," Dr. Rice said. "Though we wear different colors, or our songs may sound differently, we are one — one body of college educated men and women committed to service and the uplift of our communities. Your esprit de corps reflected here this evening is admirable. We need to see more of this throughout the nation — collaboration and camaraderie will surely get us to the finish line of social change much faster than if we do it alone.
During her address, Dr. Rice mentioned the leaders of the civil rights movement and recalled their teachings when discussing current divisive issues.
"We have come a long way — our nation is at a crossroads, and the powers that be — our elected officials and lawmakers — need to make a decision to end gun violence. Every day, a child is killed, and of course black children are disproportionately killed by gun violence," Dr. Rice said. "What would our nonviolent leader, Dr. Martin Luther King, Jr. — say or do to make gun control a reality? What can we do? This is not what we and he and others have worked so hard to achieve — to waste our hard-earned freedom and equality with senseless, random shootings."
Before ending her speech, Dr. Rice quoted passages from "I Have a Dream" by the late Dr. Martin Luther King, Jr. and encouraged the audience to keep his teachings in mind.
"Keep being the beacon light of hope to the African American community, extinguishing the flame of injustice and bring a joyous daybreak to end the long night of captivity. Remember — Rosa Parks sat so Martin Luther King, Jr. could walk. Martin Luther King, Jr. walked so Barack Obama could run. But Barack Obama ran, and he ran so our children could fly."