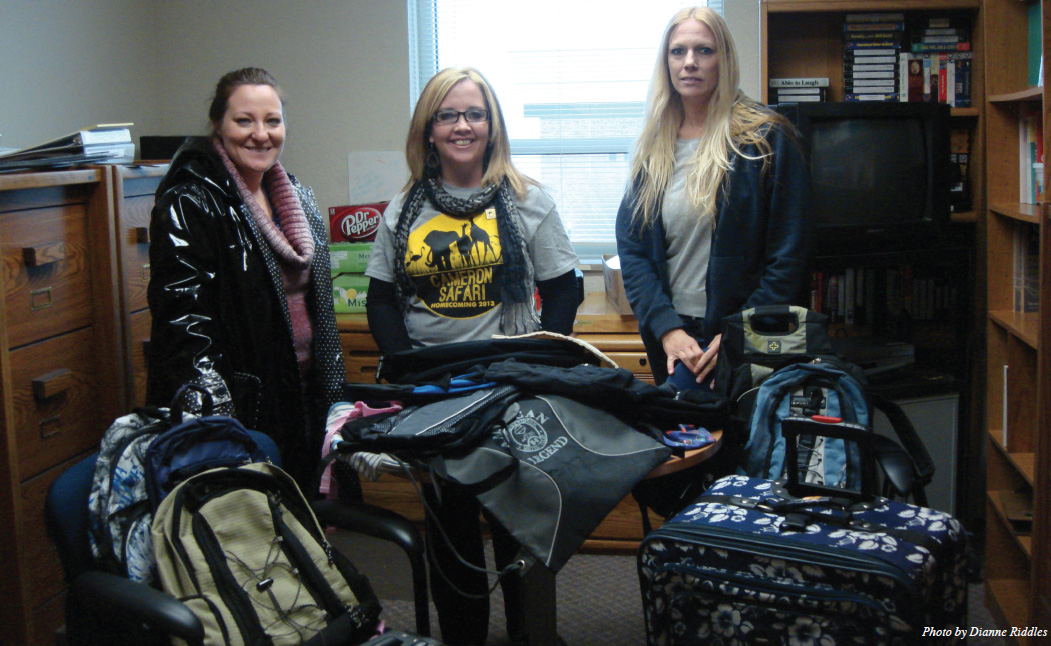 Dianne Riddles
Crossroads Editor
Student Support Services Academic Counselor/Tutor Coordinator Lisa Jones came to Cameron University in October 2012 from Western Oklahoma State College SSS.
SSS is a federally funded program by a grant under the TRIO program and has been on campus for 25 years. The program serves first generation, low-income and disabled students. Jones said that most students who qualify for PELL would qualify for SSS.
Jones said that when planning the spring calendar, one of the things that she wanted to focus on was creating opportunities for members of the SSS program to give back to the community. "As first generation low-income or disabled college students there's not a lot that we could give monetarily to the community and to the college, but that should not limit us to what we are doing," Jones said.
"We want to show our students — just because you may not have some money or something physical — you could donate your time, you could donate things you have or be supportive to other people, which will benefit you later in life — to pay it forward." According to Jones, the backpack drive was one of the first events of this semester. "One thing that we have done this semester is our backpack drive and we donated over 30 backpacks, suitcases and bags to Department of Human Services for Foster Care," she said. "There are around 300 foster children in the county at different times, give or take, and some of those children come into custody with
nothing." Jones said bags are in continuous need in foster care. "When the children are being moved from the shelter to a foster home or from foster home to foster home, they have nothing to put their things in; so what we asked our students to do was at the beginning of the semester if they purchased a new backpack, or if
they had a backpack that was in good condition, or a bag of some sort or a suitcase, to bring it up here," she said. Jones said that SSS members pay it forward with opportunities like the backpack drive. "Because they are in college and they don't have a lot of extra money, that is one thing they can do to help someone else that they don't know — a random act of kindness," Jones said. "We really
encourage our students to do that." According to Jones, SSS members will be attending TRIO Day at the state capital in Oklahoma City. "We are going to TRIO Day at the capital and we have appointments with all of the locals that represent us in our area: T.W. Shannon, Joe Dorman, Randy Bass, Don Barrington and Ann Coody are going to meet with us," she said. "They are going to let us introduce ourselves to them and give us a moment to thank them for what they contribute to the state of Oklahoma and we will be able to share who we are, which is just a good life skill for our students." Jones said that SSS would be offering several career-oriented workshops this semester.
"Another thing that we are going to focus at the end of the semester is — students that are graduating or preparing for graduation to prepare for the business world," Jones said. "In the
week of March 25 through 29, we will be asking people that have good quality business attire such as jackets, dress pants, dress shoes, dresses and anything that our students could benefit from when going to job interviews." Jones said interview clothes and career workshops are important
to any student going out into the career world. "We are preparing them for a position; they will need dress clothes that they may not have, so we want to ask our faculty and staff here at Cameron or people in the community, if they have things, they can bring them to me and we are going to put a rack up," she said. "We will do a career services workshop because I feel like the career services here on campus is under utilized; they are going to come and talk about all the resources they can give our
students." Jones said knowing how to dress is important to successful interviewing. "We are also going to do a workshop on dressing for success and show our students what things to put together for interviews — what is appropriate and what is not appropriate," she said. "Then we will have a resume and cover letter writing workshop and at the end of those workshop series, we are going to give the students an opportunity to take clothes that we have to prepare them for the job." Jones said students should take advantage of what SSS has to offer. "We want our students to be able to take advantage of what we are giving them in our program; we are trying to set them up for
success and brainstorm ways that they can help others." Any student interested in SSS program is encouraged to stop by the SSS office located on the fourth floor of North Shepler.