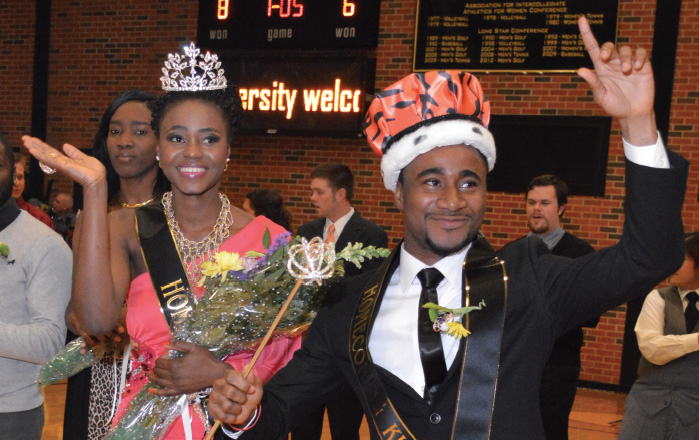 Kaylee Jones
A&E Editor 
The candidates were a f lurry of dresses in the front lobby as the first quarter of Cameron's men's Homecoming game came to an end on Feb. 16 in the Aggie Gym.
The theme for the 2013 celebration was safari. Festivities began on Feb. 15, concluding with the men's basketball game during which the Homecoming King and Queen were crowned.
Aggie Ambassadors, the CU International club and both the Psychology and English departments were among the organizations represented; however, the CU Nigerian Student Association claimed both crowns.
The victory marked a fourth consecutive year for the Nigerian Student Association to take the titles of Homecoming King and Queen.
Uade Illaboya, a junior Finance major, was declared King while junior Bukky Raji was named Queen.
Raji said she was excited for the win.
Illaboya shared her excitement, but said that it had been a nerve-wracking experience for him.
"I feel good," Raji said, "But, before they announced it, I was so nervous."
Preceding the ceremony, former CU Homecoming Queen Tolupe Agbetusin, a senior Biology major, said she was happy to give away the crown.
"It feels great," she said, "Actually, I feel older, in a good way."
Before the names were announced, many of the candidates vocalized their anxiety.
While the group counted the seconds until the end of first quarter aloud in the front lobby, Corey Medley, a junior Romance Languages major admitted: "[The nomination] is an honor, but it's super nerve-wracking. There are a lot of people here that I know could win."
Corey Medley was later declared second runner-up for Homecoming King.
Other students were more excited than nervous while declaring their school spirit.
Senior Health and Physical Science major Rebecca Espinosa said this was her first CU Homecoming.
"So far I love how homey it feels," Espinosa said: "I'm from a smaller town in Dallas, and it just makes me feel at home. Black and gold are my colors."
The score was 32/23 Aggies as the candidates walked to the middle of the court.
As each couple made their way onto the court, an announcer shared facts about each candidate.
Second runners-up Corey Medley of Aggie Ambassadors and Deslyn Beford of Students of the Caribbean Alliance were announced first.
Geno Vazques and Jessica Frederich, both representing the International Club, were declared first runners-up.
The men were given pins while the ladies received bouquets.
Finally, the Homecoming King and Queen winners were finally announced.
Illaboya was given a crown, scepter and wore a sash, while Raji was presented with a tiara, bouquet and matching sash.
The announcer gave a blanketed thank you to all of the contestants after the winners were announced.
The nominees were escorted off the court to "Know Your Enemy" by Green Day.
Though the CU women's basketball team was defeated homecoming night by Abilene Christian University, the men's team walked away victorious with the close score of 67-62.