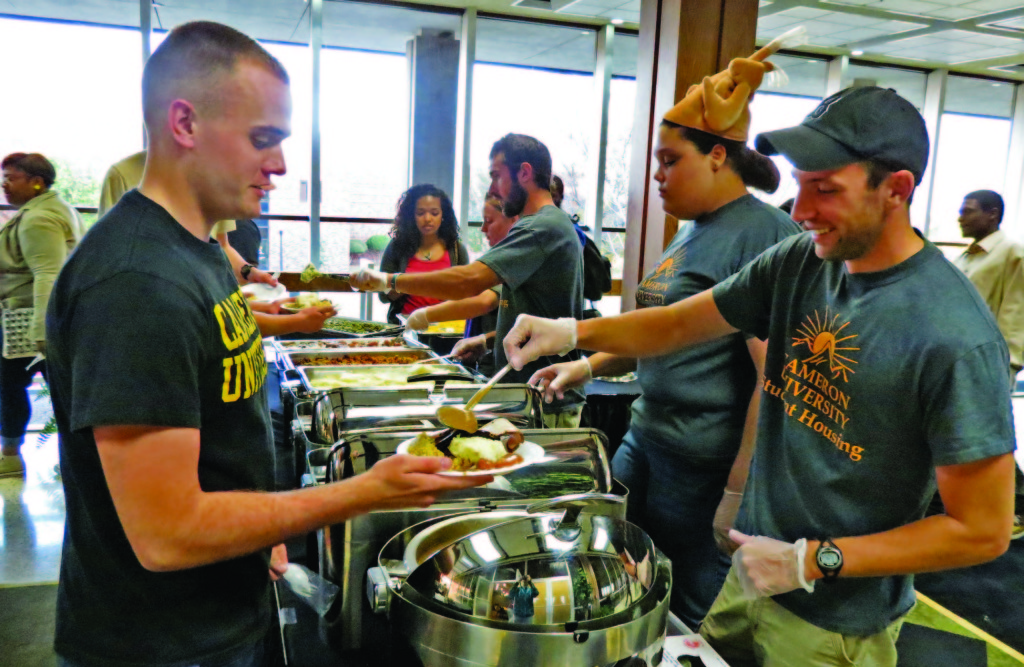 James Meeks
Staff Writer 
Cameron University Student Housing held a Thanksgiving dinner for residents on Nov. 19 at the Shepler Ballroom.
The holiday feast allowed students who could not return home for the holidays a chance to celebrate by eating traditional Thanksgiving dishes and desserts with their friends and neighbors.
Shawna Horn, Graduate Hall Director of Student Housing, believes that this dinner builds bonds between CU residents each year.
"We have some students that do not really go home for Thanksgiving, whether that would be that their international or out of state," Horn said.
According to Horn, Resident Assistants helped make the Thanksgiving dinner possible by sending time in the kitchen instead of returning home to their family and friends.
"All of the RAs are volunteering tonight, as well as the Sodexo staff that would normally be in the cafeteria." Horn said.
Senior Resident Assistant AJ Adenuga organized the feast. He said a total of 100 students came to eat turkey and ham 15 minutes before the feast began.
Adenuga has been volunteering to serve dinner since becoming an RA two years ago. Although this is his last year as an RA, it is also his first year in charge of leading the festivities.
"We had to register the event, get the menu set, get an approximate amount of people that are coming and get all the tables and decorations set," Adenuga said.