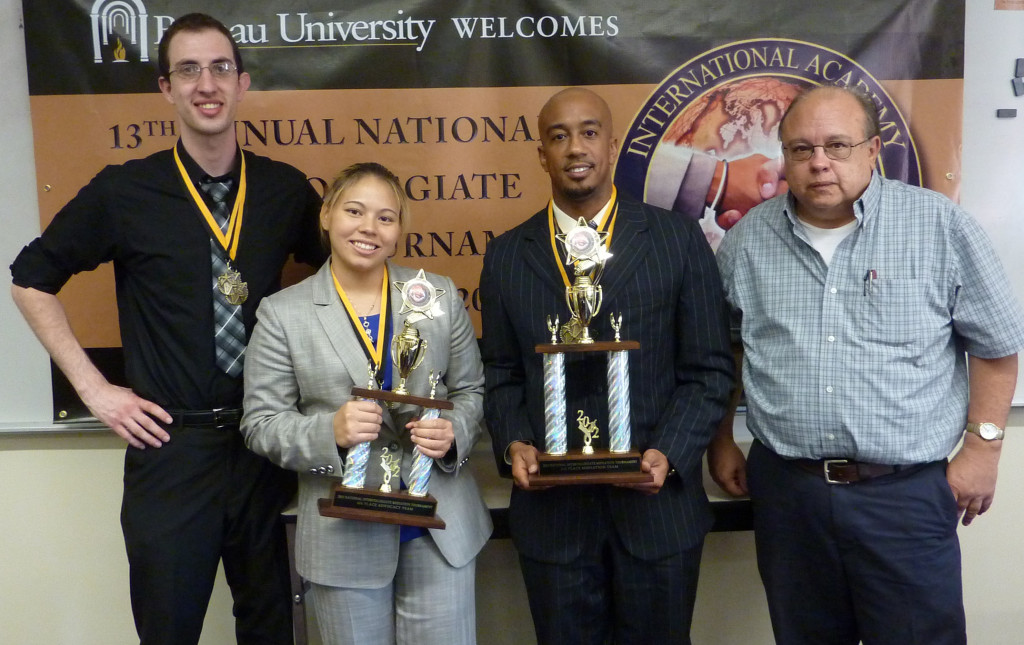 Lizzy Owoyemi
Staff Writer 
Photo courtesy of Elon Allen
The Cameron University Mediation Team claimed honors and was named the Best First Year Team during the 13th Annual National Intercollegiate Mediation Tournament, an event the International Academy of Dispute Resolution sponsored, on Nov. 1 to 3, at the Brenau University in Gainesville, GA.
According to Dr. Gary Kowaluk, a Criminal Justice assistant professor, the International ADR Society is a student-run organization established to create greater awareness of mediation and the impact it is having on the courts and the society.
"Every school year, the International ADR selects a university where they want the competition to be held," Dr. Kowaluk said. "It is opened to people interested in mediation across universities, not only Criminal Justice majors."
The CU Mediation team is focused on learning techniques of mediating conflicts, which can also be described as Conflict Resolution. The team does not only offer members the chance to participate in competitions, but also knowledge of a growing field for career opportunities.
According to Elon Allen, a senior Criminal Justice major who is on the CU team, there are 15 students in the mediation class, but the competitions had three slot rosters with an alternate.
"At our first national competition, it was myself; Lena Colon, who is also a senior; Steve Haber, a junior; and Patrick Zickefoose, also a junior," Allen said.
The competition dealt with conflict resolution, and the roles consisted of a mediator, an advocate and a client. During the third round, each team member took on a part and was judged according to the role played.
Allen said the team placed third nationally in the Mediation competition and fourth nationally in the Client/ Advocacy competition.
"Individually, I received All American Mediator Honors as fifth best Mediator out of all who mediated," Allen said. "As a team, we came in third overall in mediation and fourth in Advocate/Client team. I guess there were over 130 mediators."
Allen said that the knowledge of conflict resolution will give him an edge in the laborforce and teach him to solve both small problems and international disagreements.
"Now that I am in the knowing of mediation and conflict resolution, possibilities are endless," he said. "Whether it is helping to solve small disputes to avoid going to court, or helping come up with treaties and resolutions between warring nations, it is all the same idea clearly on different playing fields."
According to Allen, there are two more International Mediation competitions for the school year, which will be held in Dubai and Dublin.
"We are waiting to see if we will be invited to participate in either of the two competitions," he said. "Hopefully, we will be able to participate and get CU out there more intentionally."