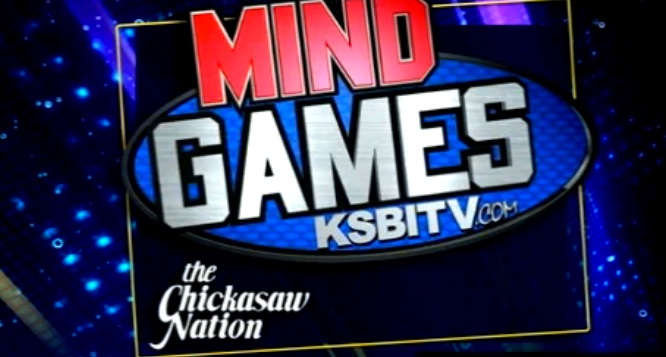 Story by Lizzy Owoyemi
Video by Colton Rowe
Seven Cameron University students are participating in the fall 2012 Mind Games Tournament, an event that the Chickasaw Nation, Oklahoma Energy Research Board and KSBI-52 sponsor.
The Mind Games is an Oklahoma Academic Challenge aired every Sunday nights on prime time at 6 p.m. The program brings together students from Oklahoma colleges, universities and high schools in a weekly battle of the brains. These students compete for a $200,000 scholarship.
According to Lani Malcolm, the Academic Services Coordinator and coach of the academic team, the show is produced at KSBI TV in Oklahoma City and broadcast weekly on prime time. The tournament is a televised academic competition, and the high school segment started this year.
[vimeo]http://vimeo.com/52657270[/vimeo]
"The show is aired on prime time every week," Malcolm said. "They air the college segment each week, and they started a high school segment this year. We do not get the TV station in Lawton, but we can view it online."
Teams are comprised of three main players and up to three alternates who may be substituted in during the games. All teams will receive scholarship awards or a school donation either as a consolation prize or as the week's winning team.
According to Malcolm, CU students participated in the tournament last year fall and spring. She said CU students are still in this year's tournament and are doing better than last year, as the CU team claimed victory in the first round over a team from Southwest Christian University before moving to the second round to compete against a team from Rogers State University.
"In fall last year we did well, but in spring we did better," Malcolm said. "This semester we have gotten better, but we cannot announce where we are in the tournament because of the televised scheduling. We are still competing, though, and we are doing very well. "
Malcolm said that the tournament is only for public and private universities in Oklahoma. The first competition was held on Sept. 11 at the KSBI studio in El-Reno
According to Malcolm, there are seven students on the Mind Games team this year: team captain Jacob Jardel; Rachel McLain; Ross Holley; Shawn Mietchen; Brent Chappel; Britany Pyfer and Joel Frambes.
"Each of these students are specialized in different topics," Malcolm said. "I am in charge of choosing who is on the floor, and all I do from there is sit back and watch. The game is just like what we see on Jeopardy."
According to Ross Holley, a sophomore Accounting major, the moderator would ask a question, and the students buzz in to answer.
"You do not get to choose questions, so we have to prepare for everything," Holley said. "On TV, the audience can see the questions, but the contestants cannot see them, so every member of each team has to pay attention to really answer the questions. If you interrupt the moderator and you are wrong, the other team gets the point."
Holley explained that questions were based around topics such as literature, history, mathematics, science, pop culture and video games.
The team meets to practice on Wednesdays, Thursdays and Fridays to go through questions from past tournaments and prepare for each competition.
Those who are interested in watching the show can go to www.ksbitv.com/mind-games.