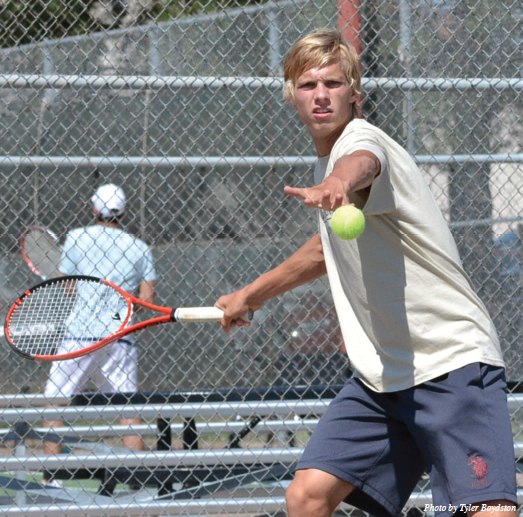 Tyler Boydston
Sports Editor 
Cameron University's women and men's tennis players recently swung away in their matches at the ITA Regionals from Sept. 29 to Oct. 1 in Abilene, Texas.
The individual players started strong on the first day, with women's tennis players Julia Puckhaber, Elvira Shooles and Amanda Moberg advancing to the sweet 16, while Duje Janjic and Nicolai Ferrigno represented men's tennis, making it to the second day of competition.
According to head tennis coach James Helvey, the ITA Regionals faced weather conditions in the form of rain on the first day, though matches instead took place indoors.
"We were indoors some of the time," Helvey said. "Indoor tennis is completely different from outdoor tennis, with no weather elements there in the way."
Sophomore Nicolai Ferrigno got two wins against Incarnate Word's Mario Jakovijevic with scores of 6-3 in both matches, following with two wins against Western New Mexico's Rodrigo Almeida with scores of 6-3 and 6-2.
Ferrigno later advanced to the championship match against the number one seed in the tournament, Hans Hach of Abilene Christian. Though Ferrigno won the first set against Hach 6-4, Hach came back in the second and third sets with scores of 6-2 and 6-2 to win his third ITA Regional title.
Helvey expressed his pride in Ferrigno's run, given the circumstances the sophomore was in.
"Nicolai had a lot of tough matches," Helvey said. "To win five matches in that tournament is tough, and he got to the sixth match. He played consistently well, and I'm really proud of Nicolai. Not many people get that opportunity."
Seniors Julia Puckhaber and Amanda Moberg both made their ways into the elite eight. Puckhaber won the first round of the second day, but met defeat courtesy of Barbora Bozkova from Oklahoma Christian, who hit them scores of 6-2 and 6-3 later in the day.
Moberg won her first match of the second day against Incarnate Word, but later fell to Mariana Rong of St. Mary's with scores of 6-4 and 6-2.
According to Helvey, Puckhaber and Moberg faced difficult matches in this tournament.
"They had some good draws," Helvey said. "They played some tough people. There were no easy matches in this draw. These are two seniors that played really well."
Junior Elvira Sholles beat Christina Lopez of St. Mary's with scores of 6-3 and 7-5 and then went on to defeat Allcia Perez of Tarleton State with scores of 6-3 and 6-3 in the opening day. Sholles was eliminated in the sweet 16 when she lost to Oklahoma Christian's Barbora Bozkokva with scores of 6-3 and 6-2.
The selection process for the tournament is picked so as to not place certain players against others early on.
"We do not usually toss players in the competition," Helvey said. "You usually try to place the better players so you do not have the possibility of the two best players meeting in an early round."
According to coach Helvey, the ITA Regional, unlike other competitions, is not an indicator for the rest of the season.
"The ITA Regional is the highlight of the fall and kind of sets everything up for the rest of the year," Helvey said, "but it's a very poor indicator of where you might actually be, because it is one giant draw. Your number one and two players could play somebody else's number five and six one round and your number six could play someone's number one, so it's a tough judge to see where everybody is.
"There have been years where I have a great ITA Regional and then we struggle afterward, and there have been years where I have a bad regional and then we have a great year in the spring."