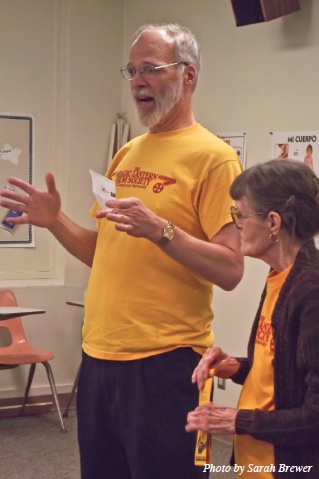 Sarah Brewer 
A&E Editor 
Flickering lights and the aroma of buttered popcorn transformed a classroom into a cinema when the Magic Lantern Film Society cued "Kriemhild's Revenge" for the gathered crowd on the evening of Sept. 21 in Nance-Boyer.
The film concludes the silent fantasy epic, "Die Nibelunge," a series the organization screened while celebrating its 30th anniversary as a CU student organization.
The Magic Lantern Film Society owes its name to a theater History Professor Mark Stegmaier frequented while attending the University of California in Santa Barbara. He established the organization with Professor Marilyn Beaney in the spring semester of 1982.
Professor Sregmaier was present for the organization's latest showing of the film and maintained how the film series has made campus life vibrant.
"I think it is exciting to be part of an organization that has been continuing for over thirty years on campus," Dr. Stegmaier said. "I think it improves the cultural life of the campus."
This improvement, along with precedent, was the impetus behind Dr. Stegmaier's decision to form the group.
"I have never been on a campus before that did not have a film series," he said. "We are hoping to enhance our greatness by having a film series. This was the idea at first, and it is still going on."
Their inaugural showing was a double-feature that included 16 mm films. Now, over thirty years later, the Magic Lantern Film Society screens dvds from a laptop onto a pull-down projector.
Technology might have changed how the Magic Lantern Film Society presents movies, but according to current faculty adviser Professor John Morris, their purpose has remained the same.
"We strive to be a theater student organization that holds an educational function," Dr. Morris said. "It is one thing to watch films in a theater, and another thing to watch videos on a screen. We believe in the film experience."
This film experience includes westerns, science fiction flicks, foreign language pictures, superhero serials and cult classics. This year-long experience offers students a chance to learn more about the movies that are not only historical for their contributions to the medium, but also memorable for their iconic and often-quoted scenes.
Professor Emerita Sherry Newell and Professor John Morris confer with the student president to choose films from the numerous solicitations the organization receives from students and faculty throughout the year.
The three select films based on certain criteria: Films must be at least 10 years old and have garnered critical acclaim, but they must also have the kind of allure inherent in all classic films.
"We try to come up with a season that is varied and full of rich experiences for students," Dr. Morris said. "For example, Professor Newell is pleased we are showing 'Casablanca,' a movie we have not shown in 19 years. She believes every college student should see that movie."
Senior English major Mary O'Doherty serves as student president and has been an active member with the Magic Lantern Film Society for two semesters.
"I have always liked classic films, but I do not think I can claim to be as enthusiastic or as knowledgeable about them as Professor Morris," O'Doherty said. "In fact, Professor Morris asked me to join Magic Lantern shortly after I took that class."
Horror enthusiasts can catch the Alfred Hitchcock's thriller "Shadow of a Doubt" before Halloween at 7:30 p.m. on Oct. 12 in the CETES Conference Room.