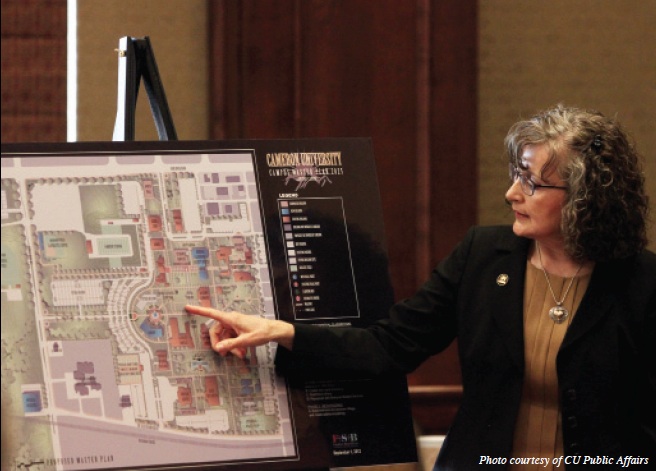 Tiffany Martinez
News Editor 
Cameron University has released its future endeavors in two separate, but equally prominent, plans this semester: Plan 2018 and Campus Master Plan 2025. Though both of the plans seek to benefit the faculty, staff and students of CU, they both have independent focuses.
Plan 2018, entitled, "Values Driven, Action Oriented," is the third five-year strategic plan Cameron University has produced and President Cindy Ross has administered. The plan will begin implementation in the fall of 2013.
Associate Professor of Communication Dr. Christopher Keller was the head of the plan.
"I was approached by the university administration in the spring of 2011 about possibly leading the Plan 2018 initiative," Dr. Keller said. "I jumped at the opportunity."
According to Dr. Keller, heading Plan 2018 was a once in a lifetime career opportunity he was not going to let pass him by.
President Ross said that Dr. Keller's technological background made him the perfect choice for the position.
"I hand-pick a faculty member to lead each plan's development," President Ross said. "Dr. Keller, being so tech-savvy, allowed a lot of opportunity for electronic input. I think this really improved the interaction of the plan — allowing more people to share more observations and inputs and ideas."
According to President Ross, Dr. Keller held several "listening sessions" throughout the year between faculty, students and staff. She stressed that the strategic plan involved many people on campus.
"A great deal of work goes into something like this," President Ross said.
Within the published document of Plan 2018 there are the actual values and actions to be implemented by CU, as mentioned in the full title of the plan.
"Altogether, there are six values and 42 actions," President Ross said.
Though Plan 2018 will not officially start until the fall semester of 2013, some of its values and actions are being executed immediately. One stated value is that of Student Learning, which heads Cameron's plan to exceed the regional university average for student retention and graduation.
President Ross said that measures are being taken to ensure Aggies are able to acquire the essential tools needed to earn their college degree, such as the establishment of tutoring labs that are open for extended hours and the requirement of study strategies courses for students who have been placed on academic probation or suspension,.
Plan 2018 was presented for approval at the same meeting that the Campus Master Plan 2025 was presented. President Ross said this was the second campus master plan she has directed. She asked Professor of Communication Dr. Matt Jenkins to manage the project.
This project, taking just as much preparation and scheduling as Plan 2018, had more of an external focus, as Dr. Jenkins explained.
"The Campus Master Plan 2025 is a guide to shaping how Cameron University will grow and look over the next 12 years," Dr. Jenkins said.
As the Chair of the Campus Master Plan Update Committee, Dr. Jenkins oversaw the information gathering processes and worked with an architect as they drafted the plan.
"It is an exciting time to be at Cameron University," Dr. Jenkins said. "I think this plan is important to everyone associated with CU. It is a unified and comprehensive plan for growth."
The physical changes detailed in the master plan range from nurturing more plant life on campus to constructing another student apartment complex. Perhaps the greatest change to campus will be moving the main entrance from Gore Boulevard to 38th Street.
Dr. Jenkins expressed faith in President Ross' vision for Cameron future.
"President Ross and her administration have this awesome vision for nurturing a new atmosphere for learning all over campus," Dr. Jenkins said.