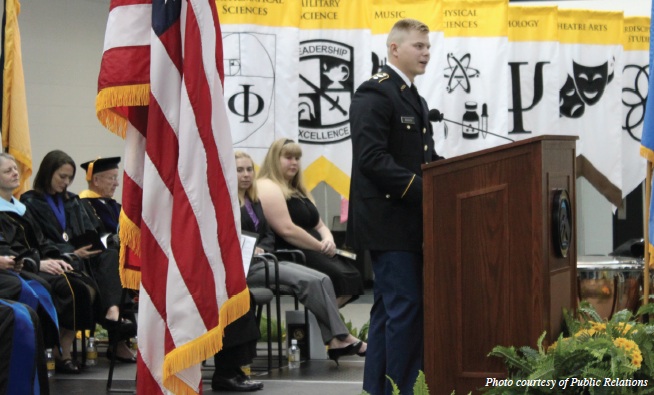 Story by Teewhy Dojutelegan
Video by Mitch Watson
Tewnty-two honor students carried gonfalons as representatives of their departments at this year's Academic Convocation Ceremony.
The convocation took place at 10 a.m. on Sept. 28 in the Aggie Rec Center. Convocation celebrates students and faculty for academic excellence and contributions to higher learning.
The event began as Chair of Faculty Senate Dr. James Heflin led an academic procession, after which the Cameron University Army ROTC Color Guard presented the colors.
President of the University Dr. Cindy Ross then gave a welcome address, and Provost Dr. John McArthur ended the introductions with a Call to Convocation.
Student Government Association President Colten Kennedy then recognized honor students, calling all honor societies and scholarship recipients.
Four students, Wahid Gbadamosi, Brandy Peters, Briar Bohach and Kristen Worthen were selected to speak at this year's convocation.
Gbadamosi is an international student from Nigeria and a freshman majoring in Business. He discussed his background and his goal to achieve excellence at Cameron University.
"I have always has always had one dream; to succeed in life," he said. "I have always had the drive to prove myself worthy, to prove that I can make a difference and to prove to the world that I am not just a number, but a person."
He also offered advice to students on making a difference.
"Students should strive to make a difference while they are at CU and redefine success," he said. "They need to set a legacy they can be proud of in the future."
Briar Bohach, a Mustang native and senior International Languages major, is a member of Cameron University's Reserve Officers' Training Corps. He spoke on the opportunities CU's ROTC program has afforded him, such as allowing him to train in a variety of Army programs both in and outside the United States.
He said it was an honor to be asked to speak at the convocation.
"It was a great honor as well as a compliment to be asked by the dean of my department of studies to speak at the convocation," he said.