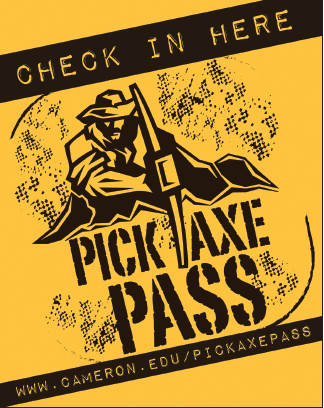 Story by Tyler Boydston
Video by Cassidy Morgan
Cameron University students are now receiving "Cameron Swag" for going to campus events through the Pickaxe program.
The Pickaxe Pass awards points to CU students for going to different school events throughout the semester.
According to Zeak Naifeh, the Director of Campus Life, this is the first year that the Pickaxe Pass has been put into use at Cameron, and it may continue on beyond its inception.
"It is brand new for this year. It started during Welcome Week," Naifeh said. "It is a brand new initiative and kind of a pilot program that we hope to continue into the future."
The Pickaxe Pass is free and available to all CU students. The only requirement for the program is that the students sign up.
[vimeo]http://vimeo.com/49313171[/vimeo]
Naifeh explained Aggies can go to a number of places on campus to sign up, including the Student Activities Office, Student Development Office, Vice President for Student Services Office or Aggie Rec Center to fill out forms.
"Students can stop by and fill out a form or sign in at any Pickaxe Pass event and turn it in on the spot," Naifeh said.
As for getting points for each event, Naifeh said that students only need to show up and bring their student IDs in order to start collecting.
"If they want the points for each event, students just need to come in, walk up and show their Cameron ID," he said. "We have an iPad that has all the information in it and we can check-in the students right there."
According to Naifeh, the point system was decided over the summer. More points are awarded to students who attend educational events or one-time campus events.
"We sat down and looked at a couple things with events, like what we want to encourage people to go to, what kind of involvement was at the event and how many times an event is offered," Naifeh said.
The Pickaxe Pass assigns point values to each event, with the points used to give students "Cameron Swag." Events include athletic games, concerts, plays, volunteer opportunities and other official Cameron functions.
"The overall scheme of it is that you attend different campus events with different point values and those point values add up to get you Cameron swag," Naifeh said.
The Pickaxe Pass encourages students to go to campus events. It also presents opportunities for them to receive Cameron merchandise. The "Cameron Swag" that students accrue through the events they attend builds up so that they can receive Cameron merchandise.
"It is a way to encourage being involved on campus and getting Cameron merchandise to the people," Naifeh said.
According to Naifeh, the merchandise that students are able to receive consists of Cameron-related items and apparel.
"We give out all Cameron items and apparel that is specific to the Pickaxe Pass," he said.
Naifeh said that the Pickaxe Pass is a great way for students to appreciate their time at Cameron.
"We really just want students to get out and just enjoy their college experience," he said. "There are so many things going on around the campus that it's a shame not to be involved."
Students looking for more information on the Pickaxe Pass can visit cameron.edu/ pickaxepass.