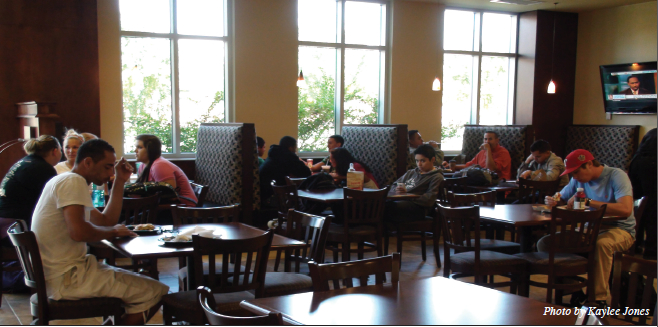 Kaylee Jones
Newswriting Intern
The Cameron University food service team hopes to introduce students to new cuisine through several promotions being organized.
Explore India, Fall Fun and Hispanic Heritage are all promotions taking place this semester. These events will allow students to branch out from their day-to-day menu while providing the team with the opportunity to switch it up as well.
Daniel Ghrayyeb, General Manager of the Cameron University Sodexo Food Services, said the Sodexo team was introducing new events that would offer an opportunity to get feedback.
"We are starting Monday Night Football, which we will be showing on the big screen downstairs," Ghrayyeb said. "We are constantly trying to evolve — we take what feedback we can get and go from there."
Sodexo has also introduced a happy hour twice a day from 2-4 p.m. and 7-9 p.m. Monday through Friday.
Ghrayyeb said the most popular of the promotions so far has been the barbecue that is offered every Friday.
Not all of the proposals, however, have gone over as well with the students.
"We tried 'Shrimp et tu fe', which is popular at other schools," Ghrayyeb said. "It was not here."
Executive Chef Deborah Wilson, Ghrayyeb and the rest of the Sodexo team are responsible for feeding well over 700 students between the cafeteria and the McMahon Centennial Complex on a daily basis.
Wilson said her priority is to make sure the team is catering to the students needs.
"My main thing is to make sure all the students are happy," Wilson said. "That is the reason we have a diversity of food, that we option the menus every week, every day. We do not just stick with one kind; we have varieties."
The team has also turned to social media to help spread the word.
"We have a Facebook page," Ghrayyeb said, "I think it has been a little successful in reaching people so far."
Both Ghrayyeb and Wilson said that the majority of the feedback they have received so far has been positive. However, Ghrayyeb acknowledged that not all of the students they reach are supportive.
"There are always going to be students that do not like the food," Ghrayyeb said, "The majority of them have been pretty positive. A lot at times, even if they do not like it, they like that we are doing new things."
Britany Pyfer, a Communication major and Senior at CU, admitted that she likes the intention of the promotions, but thinks more should be done.
"It is cool, but one day they offered the new food for lunch and not dinner," Pyfer said, "Not everyone is going to eat that lunch."
The team is making an effort to let students know that they are listening. Wilson said the team encourages students to contribute and bring in recipes of their own.
"If they offer something of their own to bring in, we will try to work with them," Wilson said, "I ask for them to give me home recipes, and we try our best to make it."
Wilson went on, explaining the team's willingness to provide for students.
"They can always come to one of us, or whoever the cook is that day and ask for anything extra if they need it," she said. "We want to make them feel at home and make sure they are taken care of.
The MCC and cafeteria hours of operation can be found on the CU website, along with a daily menu and a quick survey for student feedback.