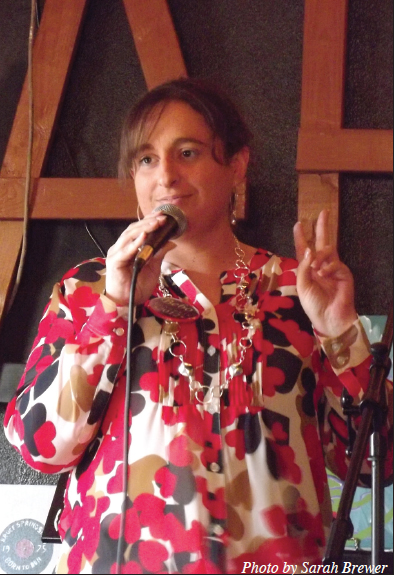 by Sarah Brewer
Local artists and political activists gathered at the Acoustic Rock Coffee House (ARCH) for an evening of live music, poetry and storytelling on March 31.
The Progressive Showcase hosted Donna Bebo, the Democratic candidate from Fletcher, Oklahoma, who is vying against Republican Tom Cole for the seat in the Fourth District U.S. House Of Representatives.
Whereas Cole already has millions of dollars to spend on his campaign and continues to earn more money through events like lavish dinners that charge by the plate, Bebo said that she opted instead to accept donations and earn support from voters at functions that better fit her progressive constituents.
Bebo said that people power her campaign strategy; although she can't outspend Cole, she plans to outwork him.
"In this election, we are running solely on volunteers," Bebo said. "We are not accepting any PAC money because the only people we want to serve are you."
Bebo went on to explain that the idea to host a campaign event at the ARCH was conceived after considering the interests of her constituents and supporters.
"We were talking about possible campaign events, and we wanted to do something that would be accessible to everybody, supports local businesses and get the progressives in the community together," Bebo said.
According to Bebo, the ARCH will not only be the closest venue when she establishes her office next door this summer, but will also provide the best setting for such an event and the overall message of her campaign.
"One of the themes of the campaign is Share Your Voice," Bebo said. "We wanted have an event where everyone could come and be heard, so we wanted to make the admission free and have an open mic session at the end of the showcase so people could get the chance to share their stories."
Bebo finds that people and their stories are essential to any campaign.
"I feel very strongly that every single person has a story, and some the stories I have heard have been heartbreaking and some have been very inspiring," Bebo said.  "To me, that is the most important part of my campaign. It's not necessarily what I get up and say, but it is the things that I hear that inspire me,"
Bebo explained how these stories inspire her campaign and her speeches.
"I'll find myself, I'll write a speech, and I'll think that I'm all ready and know exactly what I want to say."  Bebo said. "But then I'll go somewhere, and someone will tell me, 'this is what happened in my life, and this is how it affected me."
The artists who performed at the ARCH also inspired Bebo.
Performers comprising the line-up for the evening included Michael Anthony Woods, Michael Webber and His Enablers, storyteller Sam Michaels, Mannie the Poet, and Deron Twohatchet with Teri McGrath.
Woods, a veteran and a guitarist who covered Bob Dylan's "The Times They are A-Changin'" and "Blowin' in the Wind," shared a story about meeting a veteran who had served during the Vietnam War and was opposed the war in Iraq and Afghanistan.  According to Woods, the veteran was certain that Bebo was the candidate who will best represent him in the U.S. House of Representatives.
"I'm not too sure about this invasion in Afghanistan and Iraq, and I think these guys have it all wrong.  I think when the election comes up I'm going to vote for her.  I'm a registered Republican, but think I'm going to vote for that gal from Fletcher,'" Woods said.