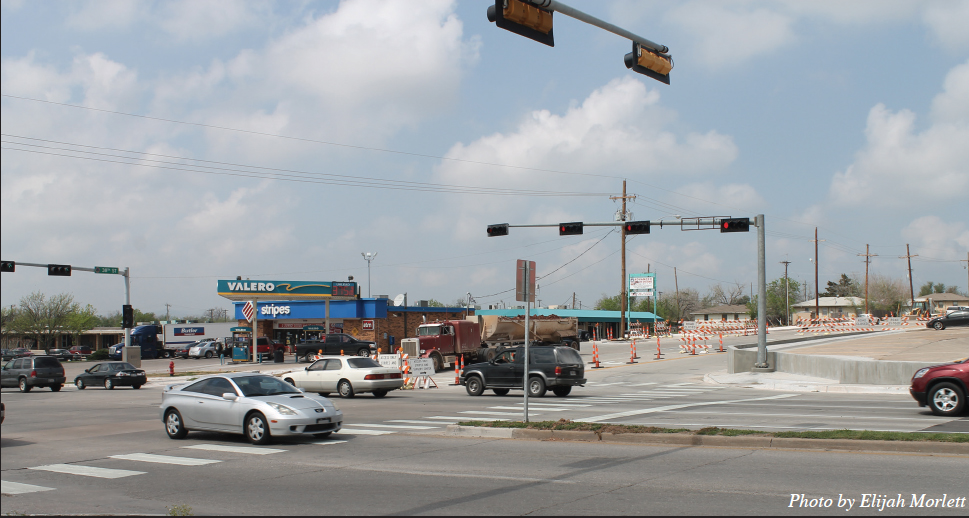 by Tiffany Martinez
Citizens of Lawton have experienced a long seven months of construction in quite an active part of town: Northwest 38th Street, between Cache Road and Gore Boulevard. The construction, which is adjacent to both Cameron University and Comanche Memorial Hospital, is set for completion in the summer of 2012.
City of Lawton Engineer and designer of the 38th Street reconstruction, Jonith Grundmann, said that planning out the details for this project took 4 years.
"Major challenges prior to construction consisted of developing the plan and specifications, coordinating utility relocations, and acquiring additional right-of-way," Grundmann said.
However, now that the project is underway, Lawton residents are growing impatient with the pace of its development.
La'Shaunte Casher, a 21-year-old Psychology major at CU, said she understands the need for construction along the roadway, but that the production feels untimely.
"I do like that the roads are being repaired, because they needed it badly," Casher said. "I just wish the construction process moved along more quickly. It's such a vital road."
Grundmann assured that the significance of 38th Street was taken into consideration when creating the blueprint for this construction project.
"As an arterial that feeds Cameron University and Comanche Memorial Hospital, down time was a major consideration," Grundmann said. "We are well aware that closing 38th Street between Gore and Cache to thru traffic is a major inconvenience to all who use it on a regular basis— but when considering safety, time and cost, it was determined to be the best option."
According to Grundmann, Sherwood Construction Co., a construction business of Catoosa, Oklahoma, began work on the 38th reconstruction project in early September, and has 240 calendar days allocated for the project.
"The days allocated are adjusted due to circumstances beyond the contractor's control, such as bad weather or utility conflicts," Grundmann said. "At this point, Sherwood has been given an addition 21 days, but the estimated completion date changes every month."
Sherwood Construction, Grundmann explained, is also the contractor for another construction site in Lawton — The Oklahoma Department of Transportation Project.
"Major contractors may work a number of projects simultaneously, and the problem is sometimes you are not their number one client, so they will put off your project to go work another one," Grundmann said.
According to Grundmann, this is the reason that the City of Lawton set out an incentive for early completion: A bonus of $1,000 per day for every day prior to the expected completion date.
"This is a first on a city project that I am aware of," Grundmann said. "This fixed date would only change under very specific circumstances."
Jerry Ihler, Public Works Director of the City of Lawton, is delighted at the progress made thus far and feels that it will only benefit the people of Lawton.
"When the project is complete the citizens of Lawton will have a much improved roadway which provides access to major facilities community: Kid's Zone, Cameron University, and Comanche County Memorial Hospital," Ihler said.