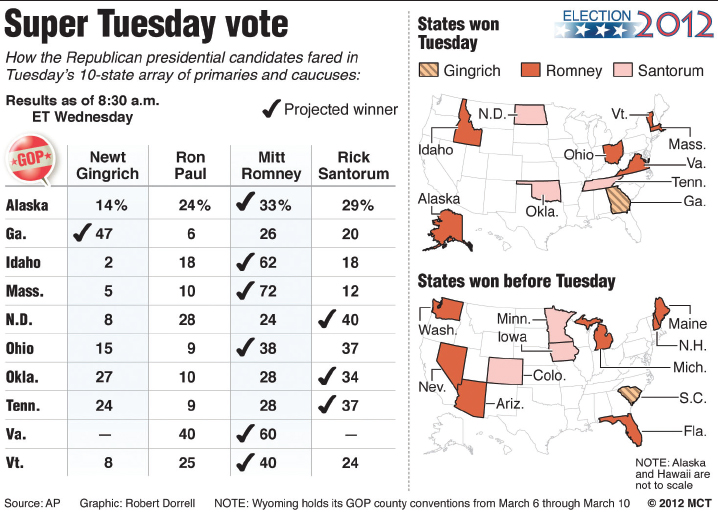 by Colin DuRant
Republican party campaigning continues as each state's primary election brings the candidates closer to the Aug. 27 Republican National Convention in Tampa, Florida.
Four candidates remain in the race for the Republican Presidential nomination: Mitt Romney, Rick Santorum, Newt Gingrich and Ron Paul.
Oklahoma participated in the Super Tuesday primary on March 6, along with nine other states. In the Republican primary, according to still unofficial results from the Oklahoma State Election Board, Rick Santorum won the largest percentages of voters with 33.80 percent.
For the Democratic primary, incumbent President Barack Obama secured the nomination with 57.09 percent of voters. However, President Obama lost 15 counties in the state of Oklahoma, a fact that has drawn interest from several national press outlets, including the Washington Post and the Associated Press.
According to Oklahoma Republican Party published data by, Oklahoma's delegates fall under a proportional distribution system rather than a non-binding, or winner-take-all, system that exists in some states.
Under this system, Rick Santorum received 14 of Oklahoma's 43 delegates; Mitt Romney, who achieved 28.04 percent of the vote, will receive 13; Newt Gingrich, who achieved 27.48 percent, will receive 13 as well; and Ron Paul received 9.63 percent of the vote and one delegate.
An American Research Group poll released on March 1 put Santorum ahead of Romney by 11 percent. At a rally in Tulsa on March 4, Santorum dedicated Oklahoma as his home base for the Super Tuesday primaries.
Santorum said, "I don't have my home state up on Tuesday like Congressman Gingrich or Governor Romney … But I can tell you that if I feel like I have any home state up on Super Tuesday, it's here in Oklahoma."
The overall results of Super Tuesday and the primary elections held thus far place Mitt Romney far ahead of his competitors in overall delegate count. Current results, according to a Washington Post-published tracker, show Romney with 421 pledged delegates, Santorum with 181, Gingrich with 107 and Paul with 47. This count includes Republican National Committee delegates who previously revealed to the Associated Press which candidate they endorsed.
According to Associated Press staff reports, the Republican Party made changes designed to prevent one candidate from taking too large of a delegate lead before the majority of states conduct their primaries. This ensures that until, Mach. 24, no candidate will be able to definitively secure the nomination.
Currently, 759 total delegates have been awarded, with 1,527 still remaining. To secure the nomination, a candidate needs a total of 1,144 delegates.
With Romney's six state wins on Super Tuesday, pundits and members of his election staff laid out the case for his opponents to drop out. Romney's political director Rich Beeson wrote a memo to the press, in which he assessed the other candidate's chances.
Beeson said, "Super Tuesday dramatically reduced the likelihood that any of Governor Romney's opponents can obtain the Republican nomination."
Josh Putnam, Davidson College professor and notable political blogger, commented on Santorum and Gingrich's chances in an interview with the Washington Post.
"Delegate-wise, it's virtually impossible for Rick Santorum or Newt Gingrich to get to 1,144," Putnam said.
Rick Santorum has not shown any signs of dropping out, however, and remains steadfast in his campaign. At a campaign stop in Kansas, which will have a primary on March 10, Santorum spoke about Romney's efforts to get him out of the race.
Santorum said, "What won't they resort to, to bully their way through the race?"
Likewise, Newt Gingrich also has pledged to not bow out because of Romney. Gingrich has repeatedly justified his decision to stay, despite a low delegate count.
"There's a lot of bunny rabbits that run through," Gingrich said. "I am the tortoise."