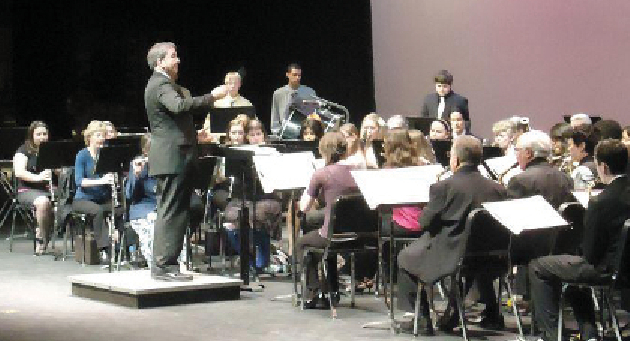 by Tyler Boydston
video by Tiffany Smith
Voices and instruments blared out this Sunday at the Cameron/Lawton Community Band and Civic Chorale Concert.
During this concert, which took place at 3 p.m. Feb. 26 in the University Theater, the Civic Chorale, which Doris Lambert conducted, and the community band, under direction of Dr. Jim Lambert, performed many pieces, and finished the concert with a collaborative piece.
According to Dr. Lambert, Chair of the Music department, Cameron University students were not the only musicians on stage.
"I have approximately 50 musicians in the Cameron/Lawton Community Band," Dr. Lambert said. "They include Cameron students, alumni, faculty, residents from the greater Lawton/Ft. Sill area and students in high school, as long as they have some previous band experience."
[vimeo]http://vimeo.com/37816769[/vimeo]
The Community Band and civic chorale perform together once each semester, and according to Dr. Lambert, the schedule for both semesters differs due to a musical in the spring semester and separate concerts for the two during the fall semester.
"The Cameron/Lawton Community Band and Civic Chorale perform once each semester," Dr. Lambert said. "In the fall, the Community Band meets the first eight weeks on Sunday afternoons and performs in early October and the chorale meets the second eight weeks.  In the spring we combine our efforts and meet in the first eight weeks."
Kristina Henckel and Jiha Choi accompanied the Civic Chorale concert on piano, an addition Dr. Lambert was pleased with.
"The combination of accompaniment adds a superb ambiance to the program," he said.
According to Dr. Lambert, the concert has a wide repertoire that compliments both the Chorale and the Community Band as they perform separate and in conjunction.
"We perform some light-hearted compositions, like Stevie Wonder in concert," Dr. Lambert said, "and we have combined compositions with the band and chorale to conclude the concert, ending with 'America the Beautiful' and Irving Berlin's 'America.'"
A set of announcer notes between compositions were used in order to educate the audience about each of the pieces.
According to Dr. Lambert, the community aspect of the concert serves as an outlet for some to continue making music.
"I believe in the interactivity of a Community Band for many reasons," Dr. Lambert said. "It permits our constituents in the area to have an opportunity to continue their music making. It also permits us at Cameron to identify young talent in high school and to recruit them at an early age."
The Community Band also features a local celebrity this semester, Dr. Lambert said, in the form of a weather forecaster from KSWO.
"We have the weatherman from Channel 7 in the morning, Austin Bowling, playing the trombone," he said. "He plays trombone and actually played throughout college as well."
According to Dr. Lambert, the concert acts as a way of showing progression of the musicians each semester.
"These concerts are very fun to do," Dr. Lambert said. "They're truly wonderful. My goal is for everyone to feel like they've made some musical progress while we continue to enjoy the concerts."