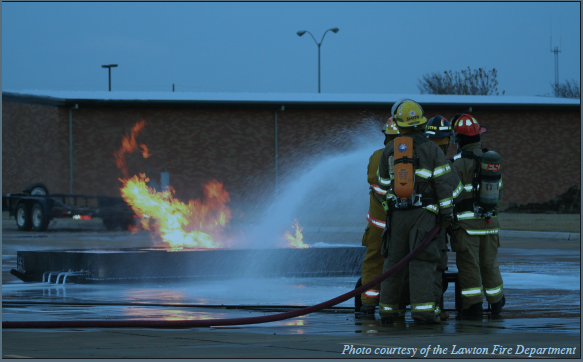 By Lizzy Owoyemi
The Cameron University Students In Free Enterprise (SIFE), together with the Lawton Fire Department, will be hosting the 2012 Lawton Firefighter's Charity Ball on May 6 at the McMahon Centennial Complex.
The event is titled "Lawton Firefighter Appreciation Banquet" and is being held to honor the Lawton Firefighters and their families for risking their lives for the community.
The banquet will include a catered meal for firefighters, their families, event sponsors and dignitaries. SIFE is seeking sponsorship within the Lawton community for the event.
SIFE is an organization that works with leaders in business and higher education to mobilize university students to make a difference in their communities, while developing the skills to become socially responsible business leaders.
These students are made to work as a team on their campuses and apply business concepts to develop outreach projects that improve the quality of life and standard of living for people in need.
In preparation for the event, SIFE has organized fund-raising activities every month of the semester. These fund-raising activities are organized to support local firefighters.
The first fund-raising activity kicked off in January after school resumed. SIFE members were stationed at the McMahon Centennial Complex and going around campus offices to collect monetary donations to support the Lawton Fire Department.
According to Dr. Dwight M. Hite, Assistant Professor at the School of Business and SIFE adviser, the donation effort for January was a success.
"In January, SIFE members collected over $500 in donations across campus," he said. "SIFE members visited campus offices collecting monetary donations."
This month, fliers were distributed to students and faculty members on information about SIFE-provided photo shots. These photo shoots are a way for people to get a special gift for Valentine's Day.
According to Dr. Hite, photos will be taken in room 225 in the School of Business Building. With no appointment required, photos taken will be ready for pick up a day before Valentine's Day. In addition, SIFE members will be selling St. Patrick's Day cookies at the Shepler Center Lobby from 11 a.m. till 1 p.m.
On April 13, one month before the appreciation banquet, the CU Music department and SIFE will host a fund-raising concert in honor of the community's local firefighters.
Dr. Hite said that all donations collected during these fund-raising activities will go directly to the Lawton Firefighter's Association.
Robert Conner, a senior Business Administration major, is the project manager for the event.
According to Conner, this is one of the biggest projects the organization has embarked on, and it will encourage team effort and bring a sense of connection with the school and community.
"This project will allow people bring their talents to the table," Conner said. "Everyone will have the opportunity to volunteer for the community and this will bridge a sense of connection with the community and some businesses."
Conner believes that this event is a way of showing the firefighters and their families that CU appreciates all they do for the community.
SIFE meetings are held once every month at the school of business in room 100. There is no membership fee for the organization.
Members of the organization often get the opportunity to meet with executives from various large corporations.
Interested students can contact Dr. Hite on 580.581.7993 or visit him at room 209 in the business building.