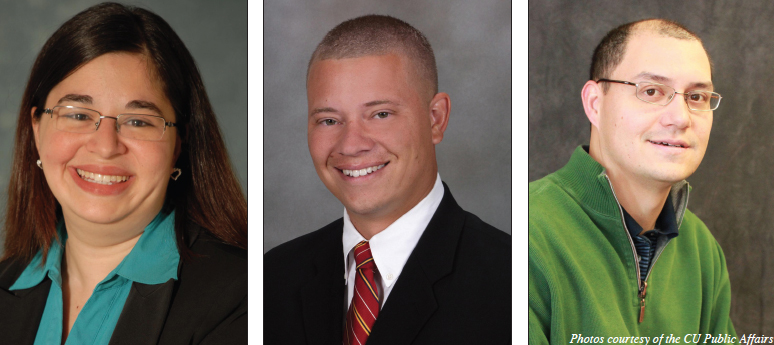 By Tyler Boydston
Cameron University has recently picked three alumni to be the Acclaimed Aggies of the 2012 spring semester.
According to Senior Director of Public Affairs Josh Lehman, the Acclaimed Aggies program is a way to recognize students who have had successful ventures after graduating from CU.
"The program was started in 2005, and was designed to recognize alumni that have gone on to professional success," Lehman said.
The Acclaimed Aggies of this semester are Dr. Robert Muller, Anna Politano and Adrian Wiggins.
Dr. Muller opened the Muller Family Dentistry in 2006 and is a member of the Academy of General Dentistry.
He received a Bachelor of Science in Chemistry in 1998 and received his Doctorate of Dental Surgery from the University of Oklahoma Health Sciences Center four years later.
Politano is the current managing editor of the Oklahoma Living Magazine and former news editor at the Guthrie News Leader. She graduated Magna Cum Laude in 2005 with a Bachelor of Arts in Communication.
Wiggins is currently the women's basketball coach at Fresno State University, having been with the team since 2005 and has not had a losing season.
He received a Bachelor of Science in Psychology in 1995 and a Master of Science in Behavioral Sciences with a concentration in Alternate Studies six years later.
According to Lehman, the process in which the Acclaimed Aggies are chosen each semester also has a specific order to it.
"Acclaimed Aggies are nominated by faculty, staff and alumni," Lehman said. "Of the pool of candidates chosen, the three have to receive executive approval from there.
They look for a wide spectrum of fields that we offer at Cameron. Everything is considered, as they are looking through a wide range of majors."
According to Lehman, the new Acclaimed Aggies are chosen before the start of school so they can be shown throughout the semester.
"The candidates are usually picked in July and January of each year," Lehman said.
The alumni chosen as Acclaimed Aggies also took time out of their school schedules during their time at CU to participate in different activities and groups around the campus, sometimes even serving as presidents and vice presidents of their associations.
"Most people chosen over the years were involved in Cameron events in some way or another as students," Lehman said.
The three chosen this semester were also involved in extracurricular activities during their times at CU.
Dr. Muller was a student worker for the Department of Physical Sciences and served as the president of the Chemistry Club.
He was also involved in intramural sports and the Biology Club.
Politano wrote for the Cameron Collegian and later served as the managing editor for the publication.
She was also the vice president of the International Foreign Language Honor Society and was a member of Phi Kappa Phi.
Wiggins was a member of the Psychology Club, and honor roll student and was a member of the Aggie Baseball Squad for four years.
He also served as the head coach for Cameron's women's basketball team from 2000 to 2002.
Posters of the Acclaimed Aggies have been placed around the campus and can be found detailing each of the alumni's accomplishments since receiving their diplomas and details of their studies at CU.
President Cindy Ross stated on the CU website that alumni,  such as the spring 2012 Acclaimed Aggies, inspire current students.
"Alumni such as Robert, Anna and Adrian inspire our current students and demonstrate that a Cameron degree is an invaluable tool in the professional world," said CU President Cindy Ross. "Cameron is rich indeed in the quality and success of our graduates, and we are pleased to recognize the accomplishments of these three outstanding alumni."