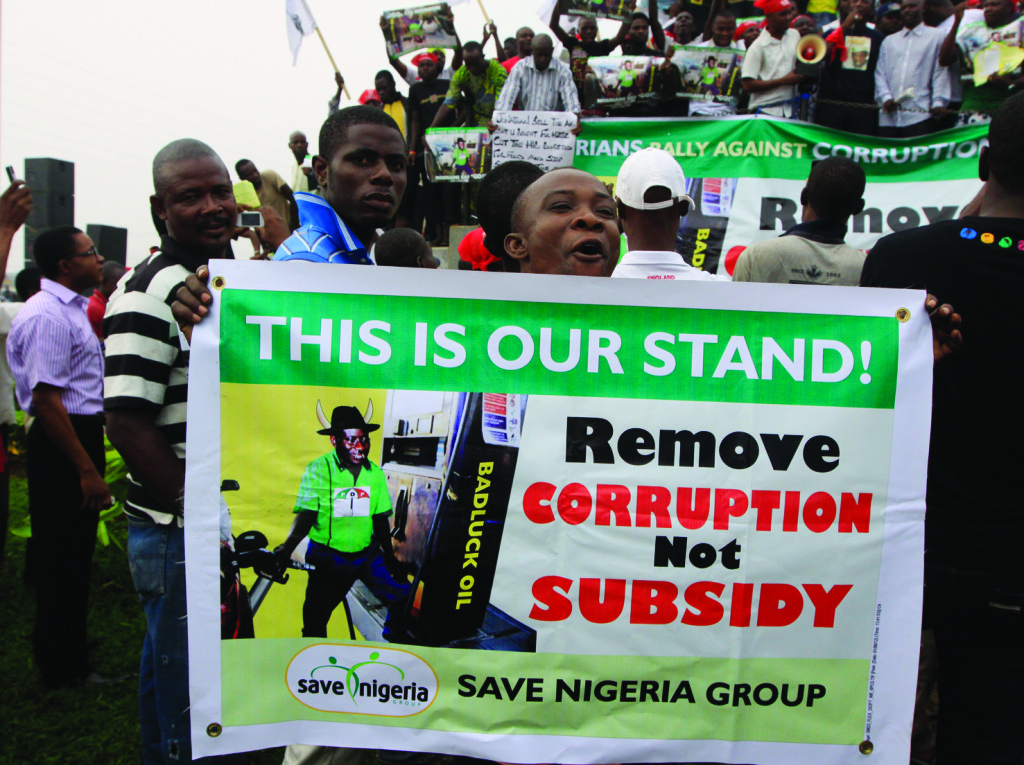 By Lizzy Oweyemi
When school resumed on Jan. 6, some Cameron University Nigerian students who travelled home for the Christmas break could not make it back to school, and the ones in school could not receive money from home due to a strike conducted by Nigerian's Labor Union.
On Jan.1,  Nigerian President Goodluck Jonathan announced that the government was discontinuing its fuel subsidy to help cut government spending, causing an overnight spike in fuel prices from $1.70 to $3.50 per gallon. Such a hike would be outrageous even for some Americans.  Cheap fuel is one of the few benefits Nigerians enjoy as citizens of Africa's largest and the world's 10th largest oil producer.
Demonstrations and peaceful protests immediately broke out, followed by a nationwide strike which started on Jan. 8. Nigerians established the Occupy Nigeria movement, taking their cue from the Arab Spring and Occupy Wall Street.
During the strike, all business activities were paralyzed and people gathered on the streets to express their feelings on the issue. Because of this, airports and banks were shut down, making it difficult for students to travel back to school.
Oluwaseun Adenuga, a Senior Biology major and president of the CU Nigerian Student Association, was one of the students stuck due to the strike.
According to Adenuga, the strike delayed his plans and did not allow him get some things done before returning to the United States. He also said that his parents were unable to give him his tuition and monthly allowance.
"The strike just delayed my plans," Adenuga said. "I was supposed to be back in school on the 11th but my flight was cancelled and moved to the 17th and my parents were not able to send me money not until yesterday the 23rd."
People were unable to go out to buy things or even drive around because all shops, restaurants and offices were closed. This made it impossible for some of the students to shop for things they needed for school.
According to Adegbamigbe Oluwatosin, a Senior majoring in Computer Information System, the streets were empty  and it was difficult for people to move around due to the fear of been attacked by protesters.
He said he was not able to shop for things he needed to bring to school. He also said his parents could not get enough money because the increment affected the exchange rate.
"The strike was actually needed for Nigerians to make the Federal Government know that they are not happy about the state of the country," Adegbamigbe said. "A lot of activities were paralyzed and it made it difficult for me to buy all I needed to bring back to school."
The prices of plane tickets were high and most of the students were unable to purchase them.
Blessing Okonye, a Computer Science major whose sister was to be in school on Jan. 3, was delayed till Jan. 19.
According to Okonye, her sister was stuck in the strike because the price of ticket became expensive to purchase. This disorganized everything she planned. Her sister could not enroll for the 16 weeks classes, so she had to go for the eight and 12 weeks.
"I had already lost hope that my sister would resume this semester," Okonye said. "She was unable to enroll for some classes because they were closed and she had no option but to go for the eight and 12 weeks classes."
Some Nigerians in New York and Maryland also joined in the protest. Occupy Nigeria expressed clear grievances from the very start, including the demand that the government tackle other issues and leave fuel subsidy. The Federal Government has reduced the fuel price from $3.50 to $2.27 per gallon.