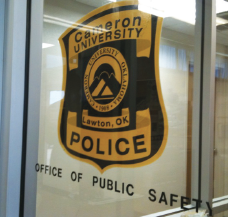 by Tahira Carter
Four Cameron University students were involved in an accident at approximately 11:30 p.m. on Wednesday night, Sept. 14, as they were returning to campus after escorting a fellow student home. Two of the students were struck by an oncoming car as they approached the intersection of Southwest University Drive and Southwest Elsie Hamm.
Rebecca Aremu, a freshman and business administration major, was one of the four CU students involved in the incident and witnessed the actual impact of the car.
"We were walking a friend home, down to Woodgate, and then while coming back we crossed the street," she said. "We were already about five or seven steps across and the next thing I saw was a car just bash my friends," Aremu said.
Aremu and her colleague Demilade Adencasa, Computer Information Systems major, were fortunate to have escaped the impact. The other two students involved were not as lucky.
Freshmen Business Administration major Evelyn Kanu and Biology major Stella Osunkwo, were transported by ambulance to Comanche County Memorial Hospital for treatment of their injuries.
Osunkwo sustained injuries to her spine and remained in the hospital for five days.
After being released on Thursday, Kanu returned to the hospital Sunday morning complaining of severe pain in her shoulder and foot. Further examination revealed that Kanu had suffered a broken collarbone and a broken ankle in the accident.
Kanu said that the ordeal was a frightening and painful experience.
"It's scary to see my bone out like this," Kanu said. "It's hurting and I don't feel any effects from the medication."
Kanu could not remember many details from the accident but said that the whole situation still feels surreal.
"This is not the first time that we have walked each other home," Kanu said. "I feel like I am dreaming."
The recent unfortunate accident has stirred great interest in CU's escort services. However, Vice President of Student Services Jennifer Holland explained the details of the escort service that is available for students.
"The Escort Service started a long time ago and the goal of this service was to provide students with the opportunity to have safe passage across campus," Vice President Holland said. "Out of being kind, that service broadened. Students would request a ride just off-campus and so officers started providing rides just off-campus. They were doing this as a courtesy, transportation is not a service that the university provides."
She said that requent requests to the public safety officers for off-campus courtesy transportation presented a security issue for the campus.
"When an officer leaves campus to take a student, they are unable to protect the environment that we say we are going to protect," Vice President Holland said. "Their responsibility is to make sure that the boundaries of our campus are protected."
The administration decided to return to the original intent for the escort service, which is limited to on-campus student assistance.
Although the discontinuance of this courtesy service did not affect students such as Rebecca Aremu and Evelyn Kanu, who said they were not even aware it existed, alternatives are being explored for those students who have come to rely on the nightly courtesy transportation.
Members of The Union, which is a new organization on campus, have begun to draft a new piece of legislature that would strive to provide safer means of after-hours travel for students.
Senior public relations major, Simone Graves is one of the founding members of the organization and commented on the key points of the new legislative proposal.
"It's going to be called the Transportation Legislation and it will basically be proposing a solution to the fact that there are not enough options for people who commute to and from school," Graves said.
"This is going to be open to students, faculty and staff. We're talking about doing a bike rental system, a 24-hour cab service and a free shuttle to residential areas," Graves said.
The final decisions about the proposal rest in the hands of the administrative body, however.
"The administration can either choose to use all of them, or one of them or two of them or they can choose to do none and just make their own new thing. We're just trying to get it out there and say something," Graves said.
Oct. 3 is the expected date for the new piece of legislation to hit the floor.