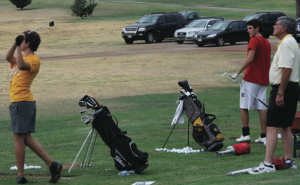 by Aaron Gill
The Cameron University men's golf team is gearing up for their upcoming season.      The Aggies will have their first tournament in Abilene, Texas and are sporting a deep roster leading into the season.
Sixteen men will make up the Aggies golf team this season and among those sixteen, nine familiar faces will be returning to the course. Coach Jerry Hrnciar is looking forward to what lies ahead for the Aggies.
"Seeing as how we have four returners and a fifth that played a lot last season, I have pretty high expectations," Hrnciar said.
After last years All-American Jason Timmis graduated, Hrnciar needed to do some recruiting to compile a team with the potential for multiple All- Americans.
"All five of my starters this year are capable of being All-Americans," Hrnciar said."There were times last year where some of these guys could have made it but they had a stretch either early or late in the year that kind of diminished their chances."
Coach Hrnciar is looking to shape the young men into a team that could collectively take a number one spot in this year's regional standings before heading into nationals.
"Well, conference I do not really care about. I look at it from a regional/national standpoint. We need to be in the top ten in the nation. I feel that is what our postseason goal is," Hrnciar said.
Coming into the season, Cameron is the only Oklahoma school left in the Lone Star Conference after realignments.
"When we lost those teams it certainly reduced the numbers considerably and the competition," Hrnciar said.
The conference play will not just be a walk on the course for the Aggies.
"Abilene Christian is still strong and always will be. And some of the other schools are getting stronger, so we will still have our hands full in that respect," Hrnciar said.
Coach Hrnciar is ready to see how his Aggies will live up to the high expectations that are set for this season.
"I do not make a big deal out of the individual goals, I just kind of let that happen. But, if they play good and contribute to the team's success looking to get into nationals, then individual goals and mine go hand in hand for these young men to help achieve our top ten in the nation ranking or better," Hrnciar said.
With so many new Aggies coming onto the course this season, Coach broke down his recruiting standards for incoming freshmen and transfer students.
"First of all, they have to make a 20 on their ACT or the equivalent on the SAT in order to be considered for scholarship and they must make a 22 or its equivalent to walk on to the team. We only have like 3.6 scholarships to spread out among the players so some of my returners are considered walk ons going into the season. Number two is that they need to show that they have shot under par in competition. Three, I want to make sure they have a good temperament for the game," Hrnciar said.
However, there is one thing that Hrnciar looks for in his players above most anything else.
"We call it grinding. That means when the going gets tough we get going and I need to see that in my athletes," Hrnciar said.
This year the Aggies have added many new athletes to the team and Hrnciar is looking forward to how they will adapt to a new setting.
"Well one of them is Bradley Ferrell who was the first alternate in the U.S. Amateur qualifying. Corey Bounds is another one who has some experience in the background who can do well. Weston Ward has tremendous natural ability.
"Bobby Good from Pennsylvania has some good credentials as well," Hrnciar said.
After last season, Hrnciar is looking forward to seeing what happens after his Aggies have had the summer as some extra practice time.
"Kregg Wood has had a good summer, Brady Porter has had a good summer. Michael Kelly has played pretty well this summer. Austin Weaver hasn't had as good of a summer but he's working at it pretty hard now. Jacob Caldwell is coming off a shoulder surgery and we are waiting to see what he is capable of doing. Trey Lawson who is one of my better players has not  had as good of a summer as he wanted but I am not too worried because he performs well. Also, Garrett Smith is our returning senior and he has experience and has played a lot of golf," Hrnciar said.
The Aggies will start their season off on Sept. 11 in Abilene, Texas.
For more information or the team's schedule visit www.Cameronaggies.com