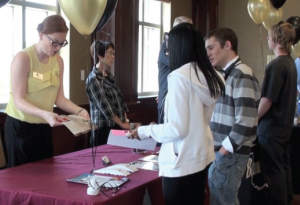 by Ishia Saltibus
With tuition and living expenses continuing to increase, the search for work brought a large number of students to the fourth annual Part-Time Job Fair hosted by Cameron University's Career Services, a division of the Office of Student Development.
The fair took place on Sept. 14, in the McCasland Ballroom in the McMahon Centennial Complex and linked students with traditional jobs and work-study positions both on and off campus.
Thirty-two registered businesses were on site to recruit and hire CU students who met the part-time needs. Fort Sill National Bank, Dillard's, Sam's Club and Pizza Hut were just a few of the off-campus employers in attendance, while on campus employers included the Office of Alumni Relations and Student Services.
Career Services Coordinator Jacob Johnson said that the job fair is an opportunity for CU students to find a part-time job.
"It's a chance for students to come in and browse a lot of opportunities within one short period of time to find a part-time job," Johnson said.
Johnson also said that the job fair provides a positive situation for students concerned about time and flexibility.
"Having so many companies in one location could save students a lot of time trying to search for jobs," Johnson said. "These companies are aware that school is priority to the students and are willing to work around their class schedules, as schedules change every semester."
Freshman Nursing major Karina Bradley attended the job fair with an open mind looking for a job to make some extra money.
"I found the fair to be very helpful," Bradley said. "I did not know there were so many companies hiring. I applied to two companies, the hospital and a cashier position at Sam's Club."
Job-seeking students were not the only ones in attendance at the job fair; some were there to volunteer and lend support.
Junior Communications major Britany Pyfer was there to volunteer her services.
"I am here to help out with the job fair," Pyfer said. "As a PLUS Scholar recipient, I have to do 16 hours of community service per semester, so I chose to help with the job fair."
Johnson said he is happy with this year's turnout and the feedback he has received from the previous job fairs.
"I known of one company which hired four people from last year's job fair and I think we will have some positive outcome from this year's as well," Johnson said.
The Career Resource Center provides many other resources to students beyond hosting job fairs. It provides Walk-in Wednesday from 12 p.m. to 3 p.m. where students receive assistance in preparing resumes, honing interview skills, learning what to wear and completing self-assessment programs designed to assist them in their career exploration.
For more information on career services offered by CU, contact the Office of Student Development at 580.581.2209 or visit the Career Resource Center located in North Shepler, Room 311.