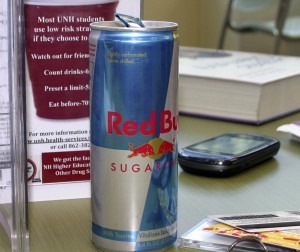 by Holly Ramer, Associated Press
DURHAM, N.H. (AP) — The University of New Hampshire's short-lived decision to ban the sale of nonalcoholic energy drinks has created more buzz than the caffeinated beverages themselves.
Within four days of announcing it would ban the sale of Red Bull and three other drinks, the university first delayed and then abandoned the plan altogether. The backtracking highlights both the drinks' popularity among young adults who use it for both study and play, and the extent to which college administrations have become entangled with the beverages' promotion.
UNH initially said it would stop selling the drinks beginning in January, apparently a first. The university said the ban would further President Mark Huddleston's goal of making the campus the nation's healthiest by 2020 and cited the dangers of mixing the drinks with alcohol.
But Huddleston issued a statement Thursday saying that there was no clear evidence that the drinks are exacerbating alcohol abuse and that sales data showed students aren't purchasing multiple servings, which might have suggested binge drinking.
"I do not now see a clear rationale for eliminating an option that our students say they want," he said.
Students weren't happy about the idea of a ban and said it would have done little to curb alcohol problems, since students buy the energy drinks off campus.
Sophomore Corrin Murphy sent her roommate a text message Monday as soon she heard about the ban. On Tuesday, her epidemiology class discussed whether students would seek out prescription drugs if they could no longer buy energy drinks. And it was the first thing her friends brought up Wednesday morning, when she sat down in the student union building with a can of Red Bull to get ready for a chemistry quiz.
"Every class I've been in, everyone's been in an uproar," she said. "I haven't seen anyone who's for it."
Huddleston's statements delaying and then reversing the ban made no mention of input from energy drink manufacturers, though Red Bull said it was working with UNH "to find a resolution."
UNH said a total of 60,000 drinks — including the other brands— were sold on campus last year, or one-half of 1 percent of retail sales. Officials would not comment on the university's ties to Red Bull or further discuss what led to the ban and its reversal, but the company's promotions have been a big part of students' activities.
The company, with the administration's blessing, brought a motorcycle show to the university's spring picnic, had Red Bull skydivers drop into the football stadium at the start of the homecoming game, and gave away a snowboard and lift pass prize package to students. It has similar relationships with hundreds of other colleges and universities.
UNH also is one of nearly 700 campuses participating in Red Bull's "stash" contest, in which students search for four-packs of the drinks around campus in hopes of winning prizes worth a total of $224,000. Last fall, a Red Bull student "brand manager" at UNH organized a skateboarding competition, with a case of Red Bull given to winners in several categories, according to an article in the student newspaper.
"We have so many Red Bull-sponsored events," said Murphy, who keeps a 24-pack of Red Bull in her room and said she frequently sees fliers advertising campus events sponsored by Red Bull.
Energy drinks are the fastest growing U.S. beverage market, with sales expected to top $9 billion this year, according to a report published in the medical journal Pediatrics in February. Hard figures are hard to come by, but those sales skew toward younger consumers, said John Sicher, editor and publisher of Beverage Digest. Consumption is heaviest among 18- to 35-year-olds, he said.
The user base also has expanded in recent years, moving beyond being popular mixers in bars and clubs to being used as an afternoon pick-me-up in the office or by drivers hoping to stay alert on the road, he said. An 8.4 oz. can of Red Bull contains 80 mg of caffeine, comparable to the estimated 65 to 120 mg of caffeine in an 8 oz. cup of drip coffee. Cola soft drinks have about 35 mg per 8 oz. can.
Despite the rise in sales, little national research has been done on consumption by college students, said Cecile Marczinski, assistant professor of psychology at Northern Kentucky University.
Marczinski led a study published in August that surveyed 706 students at her university. The vast majority had tried energy drinks, and more than a third described themselves as current consumers. Among those who drank alcohol regularly, 78 percent said they had tried mixing alcohol with energy drinks.
Study participants also were likely to agree with statements such as "alcohol mixed with energy drinks allow you to get drunk faster," and "I don't feel as tired when I drink alcohol mixed with energy drinks."
For a study published in July in the journal Alcoholism: Clinical and Experimental Research, Marczinski and her colleagues found that those who drank alcohol mixed with an energy drink felt more stimulated than those who drank alcohol alone. The energy drinks did not affect their actual level of impairment but did affect their perception of how intoxicated they were.
In its initial news release announcing the sales ban, UNH echoed health experts who have raised concerns that the caffeine in energy drinks can mask one's perception of intoxication if mixed with alcohol. Last year, 20 percent of UNH students who participated in a survey on alcohol and drug use said they had mixed alcohol and energy drinks in the past month, and a student who did so recently ended up in the hospital.
Marczinski said she was surprised that UNH had considered a sales ban, which she believes would have been a first for a college or university. Both UNH and Red Bull also said they did not know of any other colleges that had enacted similar bans.
"Most colleges have gone very much in the opposite direction. Most of our vending machines are half energy drinks now," she said. "The demand is there."
She also questioned whether banning on-campus sales would cut down on students mixing energy drinks with alcohol. Several UNH students said most drinking is done off campus, with energy drinks purchased from local stores and bars.
"I'm not buying Red Bull (on campus) to drink with vodka," said Lea Trush, a junior. "I would not buy $3 Red Bulls at a (campus) store when I could buy a pack of them off campus way cheaper."
In the report published in Pediatrics, a group of doctors from the University of Miami's medical school warned that nonalcoholic energy drinks are under-studied, overused and potentially dangerous for children and teens. Citing potential harms including heart palpitations, seizures, strokes and even sudden death, the authors said energy drinks should be regulated as stringently as tobacco, alcohol and prescription drugs.
Red Bull emphasized that its products and other mainstream energy drinks meet federal safety regulations.
"College students consume Red Bull Energy Drink because it works," the company said. "The benefits of Red Bull tie in naturally with the daily activities of college students as the product delivers energy and the ability to focus."
Image: In this photo taken Wednesday Sept. 28, 2011, a student's can of Red Bull energy drink is seen on a table at the student union building at the University of New Hampshire in Durham, N.H. The University of New Hampshire's short-lived decision to ban sales of nonalcoholic energy drinks on campus has created more buzz than the caffeinated beverages themselves, highlighting their popularity among college students and the extent to which administrations have promoted them. (AP Photo/Holly Ramer)
Copyright 2011 The Associated Press.