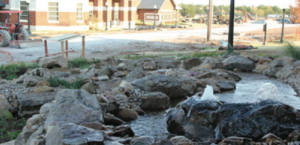 by Tahira Carter
Cameron University students, faculty and staff who were away for the summer returned this fall to find the east side of campus undergoing a makeover.
The construction began during the summer months and is currently nearing completion. To facilitate the landscaping changes, a section of the University Drive was closed and a new, slightly detoured route was provided for drivers.
Cameron University President Cindy Ross expressed her satisfaction with the project and the reasons behind its elaboration.
"It is something that I have wanted to do ever since we constructed Cameron Village," President Ross said. "This will give the students who live in the village easy and safe access to the main part of campus."
The extension of the gardens was expected to be completed before the beginning of the fall semester but the high temperatures experienced during the months of June and July made construction delays unavoidable.
As a result, students – especially Cameron Village residents – have had to take a few more steps as they made their way to and from classes.
Senior Interdisciplinary Studies major Stephanie Belter appreciated the aesthetic and practical benefits of the change, but commented on the inconvenience of on-going construction during the semester.
"I think it is awesome. It is really pretty," Belter said.
"I think the fact that they closed off part of University Drive is better because it is safer, but having the construction done now is not the best idea."
Students uncomfortable with the nuisances of mid-semester construction may need to boost their tolerance: while construction on the Gardens will be completed soon, the east side of campus will still be a hard hat zone. The groundbreaking ceremony for the new Academic Commons is scheduled to take place on Sept. 15.
"We are very excited to transform the old Student Union and turn it into the Academic Commons," President Ross said. "The project will cost a little over $4 million, half of which is being provided by private donors who have been so generous to Cameron University."
The Academic Commons will house a number of academic services and the Department of Communication's Convergence Journalism program. It is expected to be completed by the 2012 fall semester. Under the leadership of Dr. Matt Jenkins, President Ross said that plans for future construction are already being developed.
"Shortly after I became President at Cameron University we developed a Campus Master Plan to lead us through 2015. We are not yet at 2015 but we have done all the construction, so we need to update our Campus Master Plan for future growth and development," President Ross said.
Cameron University has undergone over $55 million in construction during the last eight years and, with the addition of these two new projects, this figure is expected to be well over $60 million by next year.