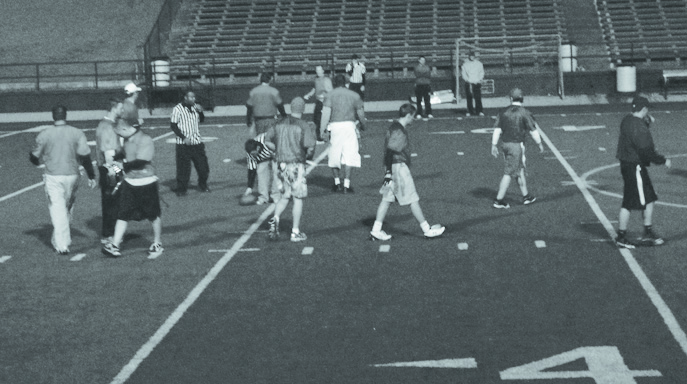 by Michael Faggett
Students can enjoy sports on campus in one of two ways: as a spectator of Cameron Aggies athletics or a participant in CU intramural.
During the 2010-11 year, cross country head coach Matt Aguero, ho also serves as directof of the CU Fitness Center, and his staff    have made strides to increase the participation in campus intramurals. According to Aguero, the process has worked well so far.
"There are some things that we want to improve on and get done," Aguero said. "But each year has gotten better. Our flag football season this year was probably the best season we have had since I've been here."
Flag football tends to be one of the pillars in the intramural schedule. According to Aguero, this season, he and his staff added more elements to the season. They named an all-Cameron flag football team at the end of the season, named most valuable players after each game and even named offensive and defensive players of the year for flag football.
While flag football is one of the more popular sports on the schedule, Aguero and his staff have attempted to include a broader variety of sports in the intramurals schedule.
"This year we had our first swim meet ever," Aguero said. "Another thing we added challenge boards, which include table tennis, racquetball, basketball and badminton. With those sports, students can sign up and work their way up the ladder on the challenge boards."
In addition to swimming and the challenge boards, during the spring semester, students will get a chance to show their skills in putt-putt golf, indoor soccer, bowling and other distinct sports.
Another addition Aguero and his staff made to intramurals this season is the inclusion of imleagues.com. The site, according to Aguero, serves as a portal students can use to sign up on teams, check schedules, post photos and get updates on game cancellations and other pertinent information.
"With the site, we are looking to do some different things," Aguero said. "We haven't started keeping stats yet, but we will try to add more stats online with basketball.
In addition to imleagues.com, Aguero said game results and photos are posted on the CU Fitness Center's Facebook page.
With the varied sports, Aguero said he looks to reach more students and get more involvement in the program.
"Our biggest sports are flag football and basketball, which is not everybody's 'cup of tea'," Aguero said. "So, we are trying to reach more students and put sports out there that everyone can play and be a part of."
In conjunction with the diverse array of sports offered in intramurals, Aguero said he has seen increased levels of both athleticism and competitiveness in the sports.
"There's definitely good athletes involved in intramurals," Aguero said. "Some of our athletes on scholarship play in some of the sports, but we've also had regular students compete who are pretty athletic."
With progress being made this season, Aguero said he looks to get more student involvement, more specifically more female student involvement in the sports.
"We have a good mixture of men's teams and co-ed teams," Aguero said. "Eventually, we would like to see all women's teams in sports like football and indoor soccer."
Aguero said he researched other regional schools during the process of including more sports on the intramural schedule.
"At the beginning of the year, I looked at some schools similar in size," Aguero said. "They helped us gain some of our ideas for this year. Looking at those universities actually helped me come across imleagues.com."
Students interested in participating in intramurals can visit the Fitness Center for more information.