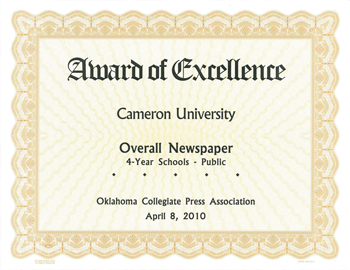 by the CU Office of Community Relations
Cameron University's student-produced newspaper, The Cameron Collegian, received the Award of Excellence for Overall Newspaper at the recent annual conference of the Oklahoma Collegiate Press Association.
The top award of the competition recognizes the student-produced newspaper as one of the best four-year public college newspapers in the state of Oklahoma. In addition, The Collegian won the Award of Excellence for Front Page Design and the Award of Merit for Interior Page Design.
Joshua Rouse, a senior from Lawton, has served as The Collegian's editor-in-chief since the Fall 2008 semester.
"The Collegian staff has done an excellent job this year not only producing quality award-winning content on a weekly basis, but also staying at the forefront of print design," says Rouse. "I am proud of the editors and writers for maintaining the standard of quality established by our predecessors."
Dr. Christopher Keller, CU faculty adviser for The Collegian, is gratified by the recognition the paper received.
"With all of the changes in technology and convergent media, it is wonderful to have the opportunity to celebrate the traditional print journalism these students produce," he says. "The amount of effort that goes into creating a weekly professional publication is staggering, and I am always amazed at the creativity and genius of these student editors, reporters and designers. They are extremely deserving of these awards. I am honored to work with such a remarkable group of young journalists."
The Collegian, the official student newspaper of Cameron University, began publication in 1926. It is distributed on CU's campuses in Lawton and Duncan and is free.