The Cameron Collegian: April 26, 2010 Complete Issue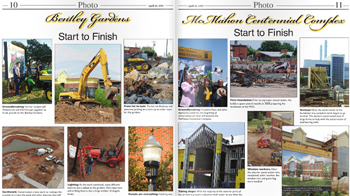 April 26 marks both the final issue of The Collegian for the Spring 2010 semester AND the largest issue (20 pages) in our publication's 86 year history. Read about what Cameron is doing to help alleviate stress during finals, Dr. George Stanley's latest award for Night Fires, commentaries on both Cameron and national sports from the entire sports-writing editorial staff and a look at the McMahon Centennial Complex from its groundbreaking to the dedication earlier this month.
[issuu layout=http%3A%2F%2Fskin.issuu.com%2Fv%2Fdark%2Flayout.xml showflipbtn=true documentid=100426182212-58009138815544abb1be12076dea481e docname=the_collegian_april_26_issue username=cameroncollegian loadinginfotext=The%20Cameron%20Collegian%3A%20April%2026%2C%202010%20Complete%20Issue width=600 height=615 unit=px]
You may also like...