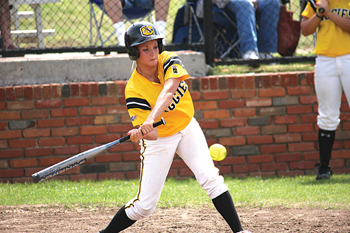 by Rachel Engel
Collegian Staff
As the semester comes to a close for the rest of Cameron University, the Aggies have only one thing on their minds as May approaches: to make the Lone Star Conference tournament.
According to coach Beth Watson, the responsibility for qualifying for the tournament still rests with them.
"We can go if we take care of Cameron," she said. "If we can put together some quality games and win. If we lose, we'll have to rely on other teams to get us there, but I would like to keep it in front of us."
The team took a step in the right direction on April 15, sweeping the Southwestern Oklahoma State University Bulldogs by scores of 5-4 in the first game and 8-7 in the second game.
"It was tough to take sitting there coaching," Watson said of the closeness of the games. "We had an answer for everything Southwestern threw at us, and then we continued to persevere."
On April 21 the team split a weather-delayed doubleheader against the University of Central Oklahoma at home, losing the first game 5-3 and winning the final game 5-0.
The cancellation and delay of games due to weather has made it difficult for the Aggies to find a consistent rhythm, Watson said.
"We have the talent, just not the game-time experience," she said. "We've missed so many games, and that affected us having cohesiveness, but we continue to build trust in each other."
The Aggies will lose four members of the team to graduation this year: Ashton McBride, Callie Schlatter, Sherry Tetreault and Micah Lierly and Watson knows the loss will be felt.
"We're certainly going to miss them," she said. "They do such a good job leading by experience, and I really appreciate what they've done to help with the transition since I arrived."
The four graduating seniors will be honored in front of their teammates and parents on Senior Day at their last conference doubleheader against East Central University on May 1.
Despite the weather conflicts and initial lack of unity, Watson feels the team has improved over the semester.
"I have nothing but good feelings about the season," she said. "I feel we grew as a team, even if we didn't always show it in the win column."